Global Health
Melinda Gates on Empowering Women to Plan Their Families
In an exclusive interview, the philanthropist talks about her foundation's push to make family planning and access to birth control a centerpiece of its work for the next decade—and the progress that's been made since the London Family Planning Summit last year.
Last summer Melinda Gates found herself in rural Niger, on one of her foundation's many trips into the field to glean insight into how global health policy plays out on the ground. The country, a landlocked desert nation wedged between Mali and Chad, is one of Africa's poorest and one of its fastest growing—the fertility rate averages a whopping 7.2 children per woman. Out among the villagers, Gates met a woman named Sadi, a mother of five, who had a message for her visitors. "She said to me, 'Don't you see?'" Gates recalled in an exclusive interview with The Daily Beast. "'Don't you see that we're struggling here?'" Sadi told Gates that the local health clinic was out of the injection she needed most—a Depo-Provera shot, one of the most popular forms of birth control in developing countries. So Sadi had walked 15 kilometers to another clinic—only to find that it hadn't restocked the shot, either. "She said, 'I can't feed these children. How can I possibly have another one?'" She said to me, 'It wouldn't be fair! It wouldn't be fair to the children I have today.' That is how vociferous these women are and what a difference they know [birth control] makes."

Sadi's story is one that plays out all over the developing world—and it's at the heart of what convinced Gates to make family planning and access to contraceptives her new priority over the next decade. Once a cornerstone of domestic and global policy, the topic has gone out of vogue in recent years—a casualty of partisan ideological struggles in the States and a focus on infectious diseases such as malaria and HIV/AIDS by scientists and NGOs abroad. But when the Gates Foundation trains its deep pool of research talent—and its billions—on an issue, the world takes note. Now, family planning—along with its impact on economic prosperity and its status as a fundamental right for women—is shooting to the top of the global health agenda thanks to the momentum generated by the Gates Foundation and its partners, starting at the London Family Planning Summit last July. The event, co-sponsored by the British government, brought together a panoply of public and private leaders and agencies to start raising the estimated $4 billion needed to allow 120 million more women access to birth control by 2020. (The foundation itself pledged $560 million to the goal, increasing its commitment to family planning to some $1.1 billion over the next seven years.)

A year on, this women's health issue remains front and center for policymakers—most recently at the Women Deliver conference this week in Kuala Lumpur. On Wednesday Gates reflected on the progress that's been made since the Family Planning Summit and spoke of the immense work yet to come. "Access to contraceptives is high on the world's list of priorities again," she told the conference audience, in remarks provided to The Daily Beast by the Gates Foundation. "But it's more than that. It's not as if our community just gave the old family planning agenda a new coat of paint ... We have been working on a new approach that gives women what they really want: voluntary access to high-quality education, health services, and contraceptives. When defined broadly in this way, family planning can be what it should be: a strong link on a chain of good health for women and their children."

Critically, this bottom-up demand for contraceptives—by women themselves—makes the foundation's push fundamentally different from the family planning campaigns of old. In the '70s, forced sterilizations in India and China's state-mandated one-child policy tarred family planning with the specter of brute government control and prompted a strong backlash. But a woman being coerced by local apparatchiks to terminate a second pregnancy is a very different scenario from a woman wanting to space the births of her children and to have fewer children so she can afford to feed, clothe, and educate them all. And as Gates traveled to Africa, Asia, and beyond for the foundation on other assignments, she kept hearing from women who wanted the ability to choose how many babies to have and when to have them. Between the ideological wars and the top-down government policies, the voices of these women were getting drowned out.

"I'd be out in the developing world, talking to women about their health and their children's health ... the 'shot in the arm' that their children get," Gates told The Daily Beast, referring to the foundation's work with childhood vaccines. "They would bring the conversation back to, 'What about the shot in the arm I used to get?'" Women wanted "a family planning tool because they know the difference it makes—particularly if they can space the births of their children," she said. "When you put the decision in the hands of the woman, and you give her the tools, and you educate her about it so that she can decide whether she wants to do this, it makes a complete difference in her family's life and ultimately in the community's life."

The Gates Foundation's new focus has not come without controversy. On the left, proponents of access to safe abortion have criticized the foundation's ongoing refusal to fund research into the issue, while the religious right has howled about the immorality of contraceptives (the Vatican remains staunchly anti-birth control). For her part, Gates has painted the matter as a straightforward one of improving women's health and thereby improving lives. In remarks to the Daily Mail last year, she noted, "I would not be so passionate about saving women's lives if I hadn't been steeped in teachings about social justice ... [and] access to contraceptives is a social justice issue." Three months earlier, in a TEDxChange talk in Berlin, she told the audience, "Some people think when we talk about contraception that it's code for abortion, which it's not. Some people—let's be honest—they're uncomfortable with the topic because it's about sex. Some people worry that the real goal of family planning is to control populations. But these are all side issues that have attached themselves to this core idea that men and women should be able to decide when they want to have a child ... Birth control has almost completely and totally disappeared from the global health agenda. And the victims of this paralysis are the people of sub-Saharan Africa and South Asia."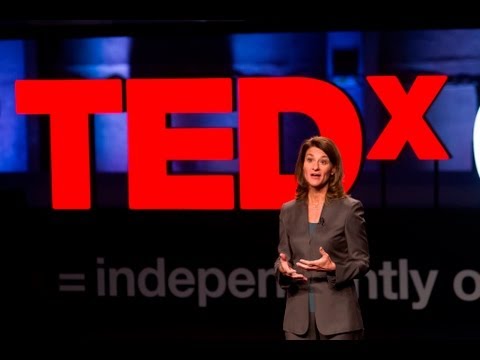 In other words—to borrow a phrase from Gates's inspirational commencement speech to Duke grads this year—the foundation is treating family planning as an extension of its belief in, and commitment to, "the boundless dignity of all people." Along those lines, the famously data-driven institution is starting to look at how family planning goes hand in hand with women's empowerment. "Some of the things we're starting to measure: Are women in power? Can they go to clinics without their husband knowing it? Are they being educated about their human rights as part of birth control being a human right—their right to decide whether they want to use contraceptives in their own family," Gates told The Daily Beast. "We really have to ground this in women's rights and human rights. So we need to make sure that's built into the London Family Planning Summit work."

Gates witnessed the deep connection between a woman's empowerment and her ability to plan her family during a January visit to the Indian state of Uttar Pradesh, where child mortality rates are perenially high. There, she met Sharmila, the mother of a baby daughter named Babita. As part of her prenatal care for Babita, Sharmila had received information on the importance of spacing out childbirths to improve the health of the babies and the mother alike, and on the availability of birth control at local clinics. Against the wishes of her powerful in-laws, Sharmila convinced her husband that she should have access to contraceptives. "Sharmila and her husband had decided they were going to use birth control because they felt it was the only way they could educate their kids—get them into school and have enough income to educate their kids," Gates said. "Here she is, going up against the power structure of the whole household to do what she feels is right for herself and for her family ... She was empowering herself."
The benefits of Sharmila's decision have been borne out by studies in the field. As Gates has noted, if every mother waited two years in between her children, it would help save the lives of 2 million kids every year. Smaller families also tend to benefit girls, who can stay in school longer if they don't have to leave class to care for younger siblings or to work a supplemental job. Gates also points to a longitudinal study done in Bangladesh in the late 1970s, wherein researchers gave half of the population of a village access to contraceptives. Twenty years later, the difference between the families who used birth control and those who didn't was stark: in "the families who had access to contraceptives, the family was wealthier, the woman had more economic means, the children were healthier, and the children—both the boy and girl child—were in school longer," Gates said. "It's a fantastic study that shows that reinforcing effect that we know, and it's why so many women say they want to have access to contraceptives."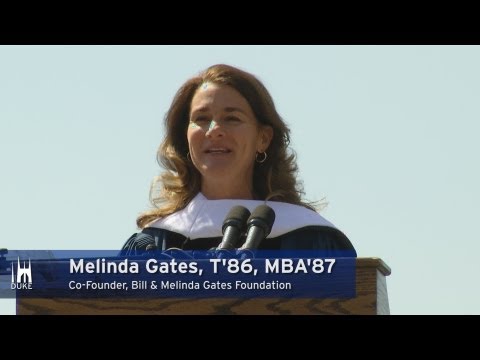 In fact, Bangladesh is something of a crucible for the positive effect of family planning on communities. Last year, after a visit to the country, Gates and Nicholas Kristof fielded reader questions for The New York Times. In response to a query about access to birth control and family planning in the region—which is quite consistent compared to Bangladesh's neighbors—Gates relayed what local women told her about their childbearing choices: "At several points this week, I asked women how many children they had at home. I didn't hear many say that they had large families. In fact, the most I heard any woman say was that she had three children," Gates told the Times. All of the fathers had jobs, as did most of the mothers. "It reinforced to me that access to family planning can have a revolutionary impact not only on a woman's potential but also on that of her family. This kind of access could pull entire societies out of poverty."

Unfortunately, many countries will first have to address the vast unmet need for contraceptives before they can tap into the economic potential of smaller, healthier families. According to the Guttmacher Institute, 215 million women in the developing world want to use contraceptives but don't have access to them. In her TEDxChange talk, Gates ticked off some daunting stats: compared to countries such as Germany, Thailand and El Salvador, where contraceptive use hovers around 66 percent, the figures plummet to 12 percent in Senegal, 10 percent in Nigeria, and a scant two percent in Chad. Meanwhile, a study from Johns Hopkins last year found that maternal mortality in developing countries could be reduced by a full 29 percent through fulfilling the demand for contraceptives, as some 100,000 women die annually in childbirth after unintended pregnancies. At the London Family Planning Summit last year, it was estimated that the campaign could help women avoid up to 80 million unintended pregnancies.

Thanks in part to the Gates Foundation's focus on the issue, many developing nations are starting to come around to the notion that access to birth control can lead to healthier, wealthier citizens. "We knew this had to be driven by countries, what's right for them," Gates said. "But there's incentive to do that because they know there's money that can now follow." After the London Summit, two dozen countries, including Senegal, Niger, Tanzania, and Zambia, have been putting national family-planning plans into place and starting to experiment with innovative ways to consistently stock clinics with a variety of contraceptive choices. Meanwhile—just as it managed to do with vaccines—the foundation is using its negotiating power to work with manufacturers to lower the cost of contraceptives, so countries can get more bang for the family-planning buck. It's also pouring money and research into new contraceptive technologies, such as a longer-acting version of the Depo-Provera shot, which could "be given in the village or ultimately self-administered by a woman in her house," Gates said. "I'm excited that there's a product being worked on that is a six-month version of [the shot] ... in a small little blister pack, and you could put it in a village community health-care worker's kit, and she can actually give it to the women right there in the village."

Already, nations are following the Gates Foundation's lead, and massive changes are under way. "The leadership I've seen in countries is a strong indication that the current approach is indeed new and innovative," Gates said in her speech to the Women Deliver conference this week. Still, she was quick to ground her approach not in the halls of power but with the women out in the villages of Niger and Bangladesh, who have poignant hopes for their lives and the lives of their little ones. "Women are at the center of everything we are doing," Gates said in Kuala Lumpur. "It means we have to look at access [to birth control] not just from our point of view, as a metric we can track from the central office. We also have to look at access from her point of view ... We are here because we know that women who have the power to decide when to get pregnant also have the power to make a better future."