Speak Up
'Whispers From The Field' Takes On Migrant Rape Crisis
An innovative slam-poetry project out of California takes on the silent rape epidemic among field workers.
From The New York Times's wildly successful multimedia interactive "Snow Fall," to This American Life's classic spoken storytelling model, media are on a constant search to find the platform that will disseminate a story most effectively, most powerfully, and, of course, most widely.

Enter the California-based Center for Investigative Reporting, which has a new project that molds long-form reporting into a creative performance usually confined to the stage: slam poetry.
In June 2012 CIR dove into a topic that had been bouncing around the Berkeley investigative-journalism graduate program for a while. It was a daunting task in a realm where little data existed and few were willing or able to tell their stories: the sexual assault and rape of migrant workers in America's agriculture industry.
A team of a half-dozen reporters, along with multimedia producers and multiple editors, spent the year investigating this little-discussed epidemic. At the end of June Rape in the Fields emerged in multiple parts: an in-depth article, both in English and Spanish; a four-piece radio program on KQED in California; a Frontline and Univision documentary film; an animated short video; and now a spoken-word poem.

On Wednesday the poetry and reporting union published "Whispers From the Field," a video of Monica Mendoza reading her piece. It's the first product of the Off/Page Project, a partnership between CIR and San Francisco–based spoken-word group, Youth Speaks. In it, Mendoza delves into the dangerous reality for the 56,000 women picking and packing the food we purchase and consume daily in America.

CIR's interest was first sparked when Youth Speaks collaborated with the University of California, San Francisco, on a project about identifying the causes of type 2 diabetes call "The Bigger Picture," and last October, they formed an official partnership.

Jose Vadi, a 28-year-old alumnus of UC Berkeley and nine-year member of Youth Speaks, was tapped to lead the charge. The two organizations are on "the same thematic mission" to find new models to tell of unresolved injustices and "push the boundaries of 21st-century storytelling," he says. "In a three-minute poem, a poet can break down a major political issue in an extremely compelling and original format that most journalism outlets can't."
They picked Mendoza, a young student who had been in the program since she was 16. Together they decided to take the perspective of the field, as a semineutral narrator, a true observer at the investigation's core, which could bring new meaning to the age-old phrase, "If the walls would speak, what would they say?" As the field, she writes:
"My body
has been poisoned with an invisible disease
that the mujeres have been carrying on their backs
since they've been born.
A disease
that takes our testimonies and spits it back in our faces,
that has taped their mouths of all the mujeres
swept them to the edges of my branches—
I can't grow as strong and powerful as the lullaby of screams.
What do I have to do for the world to believe us?"
Over the past three months, co-author of the investigation Bernice Yeung would send Mendoza her drafts of the article, and in turn, Mendoza would send the rough poem to Youth Speaks. Yeung turned out to be a good fit for the collaboration—she had been interested in slam poetry since her 20s and was already familiar with Youth Speaks from growing up in the Bay Area. But she never expected a piece of her reporting would receive poetic treatment.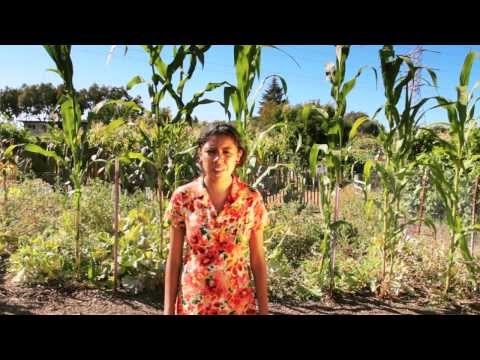 Yeung found the creative-writing process fascinating to watch, and the two traded emails discussing word usage and how to incorporate facts into the poem. How do you talk about issues like rape or issues of power dynamics between genders? they wondered. How do you make that poetic—these facts—how do you make them sing?
"I've been alone for so long
I've become one of these women myself.
These foreman know I can't speak.
My body is exhausted.
I can't point to the parts
where they have slapped, bruised, and torn
The fruit I carry is rotting from how long
I've been holding this secret inside of me"
Vadi views the project as a way to empower disenfranchised youth who want to convey their experiences into a meaningful and moving form. And he hopes a larger community will rise up, inspired by it. "The main goal of off page project is to show kids their voice matters, and that they have impact beyond just a three-minute poem on stage," he says. "Their voices and poems and creative art has the power to change aspects of their lives personally, but also to have an impact on another kid's life and another city's life."
The challenges faced by Yeung and the rest of the reporting team were great. Not only do more than half of all sexual-assault cases go unreported, but for the migrant community, it's especially difficult to speak out. Many don't have proper documentation, could lose their jobs for reporting assaults, were embarrassed and ashamed, and were afraid they wouldn't be believed. And this was before being asked to show their faces in a national investigation. "There were so many reasons these women had not complained to employer, and here we are asking them to speak publically," Yeung says.

The team was initially hopeful about a case in Oregon, where a woman and her sister had been repeatedly sexually harassed and raped in the field. The woman was intent on telling her story and making the abuse stop, but she soon realized it wasn't worth the risk. She still saw the perpetrator at the grocery store and around town. The statistics were grim to begin with. After analyzing all 43 cases that have gone to federal court alleging sexual harassment in the agriculture industry, the investigative team found that not one resulted in any kind of persecution for the perpetrators. But in the end, the team got more than two dozen women to go on the record.
"Youth Speaks can really access the next generation in the way publishing in a newspaper might not," Yeung says. "We're always trying to think about how can be bring investigations into different communities, places, and audiences that might not otherwise encounter this work."
CIR has been on a consistent search for effective ways to disseminate its long-term reporting projects. In the past it's done everything from include postcards about an investigation on charities in Meals on Wheels deliveries, to hosting community events and distributing packets with printed stories and multimedia DVDs about and in communities lacking running water and other basic needs about their own towns. Reaching people where they are is a challenge Yeung has embraced. "It's really fun to think creatively about how you might tell a story or package an issue so you can hit as many audiences as possible," she says. "Beyond youth, there's often an audience that might not be going to our website, might not be online looking at animation, might not be on Twitter."
The issues surrounding migrant workers especially resonated with the Northern Californian audiences. After two screenings at UC Davis, students whose families worked in the fields, or who had worked in the fields themselves, would pitch into the conversation, along with aspiring human-rights lawyers and farm-worker advocates. The students told them that after watching the documentary and reading the articles, they now have a way to bring up the sensitive subject along with a vocabulary for discussing what's happening in the fields.
Vadi calls this past year "a pilot," and he already has a few ideas up his sleeve for what's next. There's an upcoming documentary about life in bankrupt Stockton being released later this year, and he wants to then tackle issues from immigration to fracking to people of color in the transgender community. "We're really trying to show kids that social change doesn't start in silence, social change begins when you speak, when you bring your voice to the table, to the conversation," Vadi says. And then, others will listen.
"This is what years of this sickness has done to me
The only cure is for this world
to finally acknowledge
what is happening
inside of me."
This poem was produced by the Off/Page Project, a collaboration between Youth Speaks and the Center for Investigative Reporting. Learn more at OffPageProject.org or follow @OffPageProject on Twitter.