CALL OF BOOBIE
The Boob Jam Disrupts Video Game Culture
Many characters in video games have breasts that would make porn stars jealous. Game critic Jenn Frank's The Boob Jam seeks to teach gamers that breasts are more than just eye candy.
Our culture is obsessed with boobs—how big they are, how small they are, which celebrity let 'em slip, the breastfeeding debate, etc. And there's really nothing wrong with that, since boobs are a fact of life for half of the population. But one subculture that seems to take a lot of negative boob feedback is the video gaming community.
Most video games rely on boobs as eye candy to attract male players. At the end of June, developers admitted that the main character in Lighting Returns: Final Fantasy XIII has bigger boobs than in previous versions of the game—and they jiggle. A patch for the game Dead or Alive gave players the ability to control the "boob shake feature." Director Yohei Shimbori said, "We actually got a lot of feedback from people who were playing it, saying, 'We want bigger breasts. Make the characters more like that.' That was kind of surprising."

When games critic Jenn Frank saw the Twitterverse erupting at the Final Fantasy news, a new thought struck her: "What if you had to watch a sexy videogame character also buy bras, cry softly when she can't find one that fits, and go in for mammograms"? Her tweet elicited an enthusiastic response, and she was inundated with ideas for potential boob video games. This led to her next endeavor: To start The Boob Jam.

A game jam is a gathering of developers for the sole purpose of creating and completing a full game within a short period of time, which is usually one weekend. But Frank's Boob Jam is a "long jam," and she is accepting game submissions on her site until Sept. 30.

"The only rule of Boob Jam is a non-rule: Are we not capable of discussing boobs as anything besides/as a plaything or an object for a straight dude?" Frank said via email.
There are seven games hosted on The Boob Jam website right now, and Frank plans to keep posting them on a rolling basis. These games don't have any fancy special effects or details, but they get the point across.
Sleeping with Boobs explores the trials and tribulations of an ample-chested person just getting comfortable enough to fall asleep before her alarm rings. Alice and Joe is a compelling story that consists of white text on a black background. The user can play as either Alice or Joe, and it's similar to a choose-your-own-ending book. On The Boob Jam site, creator Kevin McGowan says it was born out of his own experiences as a transsexual man. "It's not aimed just at trans people, though," he says. "Alice & Joe came of my interest in writing about different ways people end up at war with our own bodies, and how that can feel, and whether we can win." Return to Eden is a game that seems to be based off of the Biblical story of Adam and Eve. The player can choose both male and female figures, and they must collect apples to destroy a giant block spelled out "SHAME." See the video below.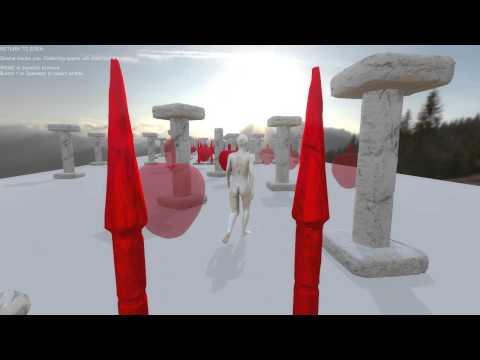 Frank (who once changed her Twitter handle to "Just a Pair of Tits" out of anger) says she's been pleasantly overwhelmed by the questions, suggestions, and ideas for games. People from all walks of life are participating—a sizable number of questions come from transgender people, mothers, and cancer survivors, she says. She's gotten emails from straight men worried that they aren't welcome to participate and has fielded questions about whether gynecomastia (breast enlargement in males) is an appropriate topic. The Boob Jam is open to everything, she says. Plus, she wants to create a space for the ideas from people who aren't game designers, so they can find others to develop them.
Frank says she understands the aesthetic appeal of boobs in video games and doesn't want to ruin it for boob-loving gamers. "Boob Jam doesn't seek to take those boobs away from boob-appreciating video game players," she says. "Rather, it wants to start a different, simultaneous discussion. Right now, games criticism keeps looping this one conversation—'Are these boobs too audacious, too ponderous, too unrealistic?'—and that's ridiculous. I want to start a different conversation so that the two can live side-by-side."
Frank says that before she started The Boob Jam, she wasn't aware of any other boob-centric video games. But two of the games hosted on the site were made for other festivals, and she says she feels fortunate to highlight them. She's also a huge fan of writer Lizzie Stark, who had a preventative double mastectomy because the BRCA mutation runs in her family. Stark's game, The Curse, is a live-action role-playing game for five players—a type of game Frank says she did not expect to see.
Frank is pretty nonchalant about the depiction of characters' bodies in video games. "For my own part, I get a little ruffled any time my preferred pool of critics is upset about video game boobs. There is nothing wrong with a game character having great big boobs, you know? Or little boobs. Or no boobs. It's OK to like boobs, and it's OK to have them, and that is enough to make me uncomfortable," Frank says.
This aligns with two recently exposed facts. First, boobs—or at least bra cup sizes—are getting bigger. Whether it's due to obesity, breast implants, or simply better-fitting bras, the average bra size has jumped from a 34B to a 34DD in just 20 years. Secondly, almost half of gamers are women. According to the Entertainment Software Association's 2013 Essential Facts About the Computer and Video Game Industry, women make up 45 percent of all players—although that prompted one message board user to quip, "I keep hearing that, but where the hell are they?"—and they make up a larger amount of gamers than the under-age-17 boys demographic.
But that hasn't necessarily brought about revolutionary change in current game development, although there are certainly exceptions to the rule. "It's true that video games, which are mostly designed by straight men for other straight men, rely on certain 'boob tropes,' Frank says. "I always point to Ivy of Soulcalibur as my favorite inversion of the trope: She is a ball-busting bitch but she also has massive tits. She isn't a bimbo; she isn't a mother; she will straight-up murder your ass, and she'll jiggle the entire time."
Even in mainstream games, female characters seem to be making some strides. Call of Duty: Ghosts, which is out Nov. 5, is letting players add customizable female characters for the first time. And Feminist Frequency's creator, Anita Sarkeesian, came up with a video game concept called The Legend of the Last Princess, where the damsel in distress goes after her kidnappers to save her kingdom instead of waiting idly for her Prince Charming.

As for The Boob Jam, Frank sees it as a potential annual event if interest persists, but don't expect a champion to be crowned in her challenge any time soon. As she says, "can anybody 'win' boobs?"