Women
Nobel Laureate Leymah Gbowee Wows Chicago
Receiving a standing ovation at the first Women in the World breakfast series event, Gbowee shared her plans to build a school in Liberia, and looked back at her dramatic past.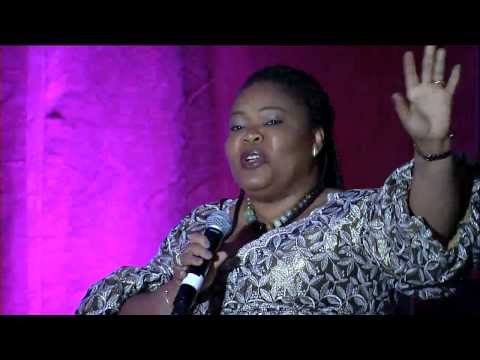 It sounds hard to believe that one woman could build up enough social pressure to help end Liberia's bloody four-year civil war, but Leymah Gbowee did so and ended up being honored with a Nobel Peace Prize for her efforts. On a fateful day in 2003, Gbowee gathered 2,500 women outside of dictator Charles Taylor's executive mansion and spoke directly to the man who was behind a horrifying catalogue of atrocities, violence and rape. "The first time I saw a dead body I was 17," remembered Gbowee. "At 31, I could jump over a dead body and not think twice."
The dynamic Gbowee sat down to speak with Women in the World founder Tina Brown at the organization's first-ever event in Chicago—though not before Gbowee thanked her guests for "waking up from the bed" to attend the breakfast at Chicago's J.W. Marriott. The event was a preview of the Women in the World summit, taking place April 3 - 5 at New York City Lincoln Center.
The audacious women-led peace movement Gbowee organized helped build a case against Taylor and pave the way for a new leadership in the war-torn country. Her protest group served as a kind of societal "sponge," she said: "We absorbed all of that dirt, but had nowhere to squeeze it. We got angry—in a good way."
Sharing their stories, the women realized they had all suffered in various ways. "When we started working as a group of women, we had a distinct quality. We all had some type of pain. And the pain was a point of mobilization."
Gbowee, 42, also spoke about the all-girls technical high school she plans to build in Liberia by 2017. Education for women is desperately needed in the West African country, where violence still rages. Right now, "one of the most dangerous places to put your daughter is in school," said Gbowee, a mother of six.
Gbowee's story visibly moved the audience, who gave her talk a standing ovation. She also spoke directly to those in the room of her rise from a Liberian refugee to an international peace activist (most recently in Libya, Mexico and Burma). "I wasn't always this glamorous," she playfully assured them. "Being the voice for a country is a difficult thing."
Later, two female entrepreneurs took the stage and told the audience of their fight, in this case, to bring relief to disaster zones. Anna Stork and Andrea Sreshta created LuminAID, a solar-powered, inflatable light that allows people in powerless disasters to see safely. For their innovative solution, Toyota honored the LuminAID co-founders with the 2014 Mothers of Invention award. Stork and Sreshta partnered most recently with nonprofits to distribute 15,000 lights after the 2013 typhoon in the Philippines, the deadliest in the country's history. "It's been nice to see this come full circle," said Stork about the four-year-old company.
The breakfast closed with Sally Hazelgrove, another female pioneer who used her anger over Chicago's gang-related violence to bring about change. She founded the Crushers Club, a boxing and community club that keeps boys in one of the city's most violent neighborhoods off the streets. Started four years ago, Crushers today has more than 90 members and is helping to make a positive impact on the neighborhood. Why boxing? "Boxing is the greatest sport in the world—it's a just like life," Hazelgrove told the audience. "It's a great outlet for anger."
After listening to the inspiring women, guests departed with Gbowee's searing memoir, Mighty Be Our Powers, a rich narrative of this inspiring woman's journey from despair to empowerment.