Power Players
Hillary Blasts Putin
At the kickoff of the Women in the World Summit, Clinton said Russia needed to be put in its "proper place," with IMF chief Christine Lagarde at her side.
At the opening evening of the fifth annual Women in the World Summit, Hillary Clinton and International Monetary Fund chief Christine Lagarde, whom summit founder Tina Brown introduced as "first among women," were greeted with a standing ovation at New York's Lincoln Center.
Each is the most popular female politician in her country. Each grew up with brothers and learned how to elbow her way in and operate in a man's world. Each champions women in their public pronouncements and policies, and when Clinton and Lagarde appeared together at a panel moderated by Thomas L. Friedman, together they called for greater political and economic participation by women around the globe. "Women," Clinton said from the stage, "are the world's most untapped resource."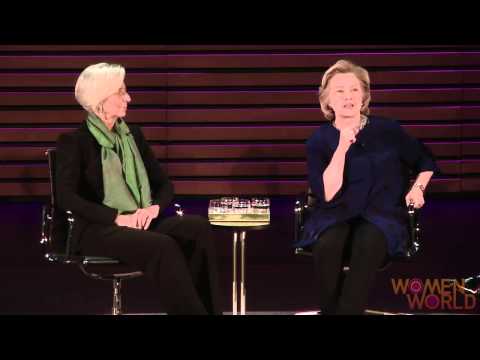 Women "are better than men at adjusting, which is a sign of intelligence," Lagarde said. "So we're a threat. Because we can achieve lots and lots of things and more than they can."
But before moving on to those issues, both made pointed remarks on the crisis in Ukraine.
Russian President Vladimir "Putin is motivated by the past, to recreate it, reclaim it, restore the proper place of Russia in the world order," Clinton said. "I believe over the long run this is a losing strategy, but U.S. and allies have to be both strong and patient. Part of our problem is we are a raucous democracy. But we have to say no to somebody like Putin in a smart way."
Lagarde pledged ongoing support for Ukraine from the IMF, warning too that "we expect the Ukranian people to take their crisis in hand." Lagarde also said she believes the United States could do more to help the IMF deal with the crisis.
Both Lagarde and Clinton possess an impressive list of firsts, with more to come in Clinton's case should she run for president (a question she declined to address under questioning from Friedman). And every day that Lagarde manages the International Monetary Fund as its first female leader is one small step in her stellar career, and a giant leap for womankind.
Improving women's lives by increasing their earning power is a key objective of both leaders. Clinton advocated micro-loans for women in developing countries back when she was first lady of Arkansas, and in the White House and as Secretary of State she stressed the importance of bringing women into local economies, not only because it was the right thing to do, but because it serves as a bulwark against extremism.
Clinton always made women's empowerment a major part of her profile while at State, but her great achievement was the deftness with which she promoted the idea that women's empowerment made sense as an economic issue. Using the logic of the bottom line, not a tug to the heartstrings, Clinton sold the cause of women to countries like Japan, where population density makes immigration impossible and where a largely untapped female labor pool suddenly looked attractive.
Together with her powerful ambassador for global women's issues, Melanne Verveer (also a WITW summit co-host) then-Secretary Clinton extended her campaign to promote the economic benefits of women's empowerment to financial institutions such as Goldman Sachs, WalMart and Coca-Cola, forcing them to think of women not merely as a cause to help but a market to crack. Suddenly huge corporations were pouring money into programs that benefited women, a shift dependent almost entirely on Clinton's determination and her ability to make the economic benefits of supporting women plain to all.
A recent IMF study finds that half the women in the world are not working in the paid labor force, often because there is no opportunity, or they work in the "informal economy" where there are no social protections or government regulation. The result is widespread exploitation. If women were represented in the work force in the same proportion as men, the IMF says that gains in GDP (gross domestic product) would be striking: up 34 percent in a country like Egypt, 27 percent in a country like India, and in modern economies like Japan, and the U.S., the numbers are 9 percent and 5 percent.
These two policy-oriented women will talk about the projects they're spearheading to move beyond the rhetoric of women's rights to the hard data that should convince policymakers that investing in women benefits not just women, but entire societies and indeed countries. The IMF report is a critical step towards that goal, together with a new Clinton Global Foundation initiative partnering with the Gates Foundation to assemble the essential data that will help turn dreams into reality.
A movement was launched at the Beijing Women's Conference after Clinton said, "Human rights are women's rights, and women's rights are human rights, once and for all." Now she and Lagarde are saying it's not enough to argue for women on the grounds of rights, it has to be argued on economic value. "That's their common ground," says Tara Sonenshine, who served as Clinton's Under Secretary of State for Public Diplomacy. "That's how you move men into the dialogue, and once you get men at the table, these issues become mainstream. They can no longer be cordoned off as women's issues."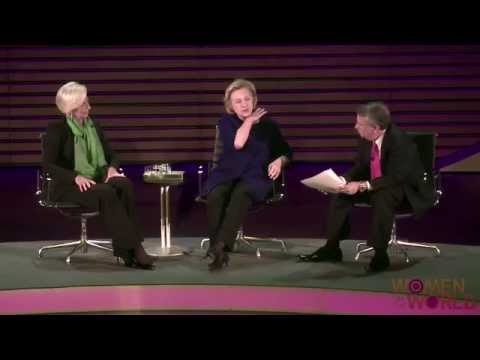 Reporting to a 24-member all male board of directors, each representing their respective country, Lagarde said in a recent NPR interview that she complains "not that these men are incompetent, they're very competent, but diversity is a richness and we're not having the benefit of that." She went on to say that where she can make a difference at the IMF is by encouraging women in middle management and upper middle management "to share their views, to compare their notes and to speak up when they feel like speaking up."
In addition to the very real obstacles women face, sometimes it's their own inhibitions holding them back, the so-called "confidence gap." As France's first female finance minister and the first woman to head the global law firm of Baker & McKenzie, and as the mother of two now 20-something children, Lagarde, who is 58, knows what it takes to climb the pyramid of success and is uniquely able to inspire those who follow. Clinton's story, while very different, also speaks to women because she evolved from the wife of a governor and the wife of a president to become now, at age 66, a hugely popular and powerful public figure in her own right, which is no easy feat. "They are sisters on a tiny planet inhabited by the tiptop of the national security and economic pyramid," says Sonenshine. "When either one of them walks into a room, it's rock star status."
They could kick back over a cocktail and share stories about the glass ceilings they've cracked, and the silly, sometimes hurtful things said about them. Each has a lighter, funnier side that is evident when they're among friends and their guard is down.
Last month on Capitol Hill, at a Women's History Month event honoring Federal Reserve Chair Janet Yellen, I found myself swept into a huddle with Yellen, Lagarde and Sylvia Burwell, head of the White House Office of Management and Budget. Realizing the strength of the collective economic power of this trio, I recalled something Barbara Mikulski said years ago.
As the first Democratic woman elected in 1986 to the U.S. Senate in her own right, Mikulski predicted America would have its first woman president when the government runs out of money and whoever is president "will have to pay for her own housekeeper, send out for Chinese food, and maybe even pay for her own security, then they'll let us do it—when there's a demise in power." Lagarde, who took over the IMF at the height of the global recession and after a sex scandal displaced her predecessor, nodded knowingly and said that a female colleague told her by way of congratulations, "the men go to war and the women pick up the pieces."
As for Clinton, she invokes advice from Eleanor Roosevelt, who she famously channeled while in the White House, that women in politics "need to develop skin as tough as a rhinoceros hide." She has also said she is mindful of "making sure that the rhinoceros skin still breathes," a poignant way of expressing what she faces.