Crimean Leader
Ruslana Stands Up to Putin
Ukraine's top pop singer and a leader of the Kiev protests tells Women in the World's Tina Brown that Russia can't take away the freedom of Ukraine's people.
Ruslana Lyzhychko brought a "mini-Maidan" protest to the 2014 Women in the World Summit.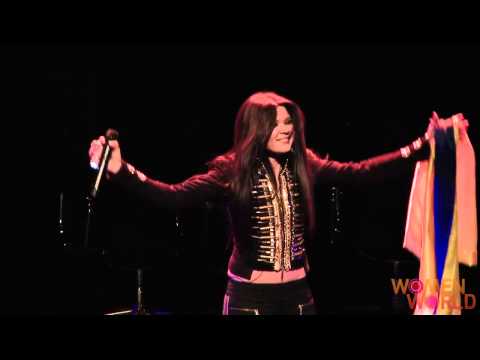 As she did for four months during Euromaidan, a protest movement that takes its name from the Kiev Square where the protests originated, pop singer and activist Lyzhychko rallied the crowd at Lincoln Center in New York City with a powerful rendition of Ukraine's national anthem.
She explained that as she went face-to-face with police in Ukraine, she would hold up a tiny flashlight, serving as a shining beacon for the anti-Kremlin protesters. Lyzhychko invited the WITW summit audience to hold up their cellphone lights as a symbol of their support of Ukrainian freedom.
Despite Russian President Vladimir Putin's recent seizure of the Crimean peninsula and troubling troop buildup at Ukraine's border, he will not succeed in a Ukrainian takeover, Lyzhychko told moderator Tina Brown, the founder of Women in the World and CEO of Tina Brown Live Media.
"Sorry, Mr. Putin, but you look to the past, not to the future. Nobody supports your plan in the world," Lyzhychko said.
She's received death threats for spending up to 10 hours per day in Kiev's Independence Square to keep up protestors' spirits. As Euromaidan turned deadly in February, Lyzhychko stood defiant when coming face to face with snipers, telling them, "Shut up, give me time to say something."
She predicts that next month will be the most dangerous time for her country, because of impending presidential elections.
But Lyzhychko's efforts are all for peace, not war. Her voice is just one of millions in Ukraine. She believes that Maidan is all about giving power to the people of Ukraine, and they will prevail even though Putin has power, money, and propaganda.  She thinks that Putin is truly worried about the power that's been given to Ukraine's citizens.
"Human life means nothing, empire means everything" to Russia, Lyzhychko said.  Despite that, she thinks the Russian people will see "the light" of Ukrainian freedom because Putin is a bad example for younger generations.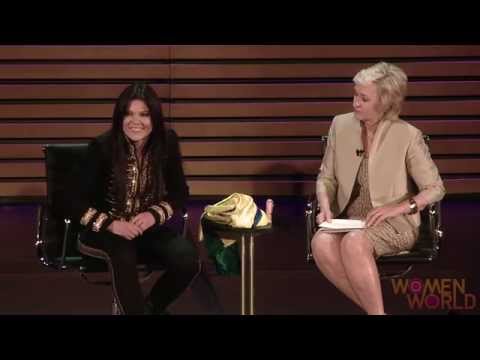 Lyzhychko has been compared to Joan of Arc and even Katniss Everdeen of The Hunger Games book trilogy. She first became involved in the fight to retain Ukraine's independence during the country's 2004 Orange Revolution, according to Melanne Verveer, former U.S. ambassador for Global Women's Issues, who introduced Lyzhychko.
Ukraine's most famous pop star  won the 2004 Eurovision song contest with her performance of "Wild Dances." Her album Dyki Tantsi became the best-selling Ukrainian record ever.  She was also one of 10 women to receive a Women of Courage award in March from first lady Michelle Obama and Deputy Secretary of State Heather Higginbottom. 
 
NATO officials warn that Russian forces at Ukraine's border could invade the country within a week.