Summit Kickoff
A World of Women Take the Stage
The 5th annual Women in the World Summit kicked off Thursday night in New York and featured Hillary Clinton, Christine Lagarde, Ruslana, and survivors of Syria's civil war.
The 5th annual Women in the World summit opened with a raucous dance performed by inner city kids from New Jersey and closed with a conversation between two world leaders who summit founder Tina Brown described as "the two coolest women in the world"—Hillary Clinton and Christine LaGarde.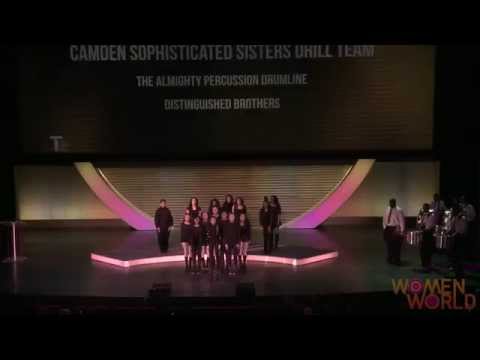 In only five years the event has evolved from an intimate conference for 300 guests to a star-studded conclave that helps shape the narrative on issues affecting women from Washington to Rwanda.
This year's summit kicked off at Lincoln Center in New York City on Thursday night with a roundup of the world's most important hot-button topics. Brown opened the show by introducing the summit's mantra, "don't cry, strategize," and by celebrating the success of the global women's movement. She then asked the crowd to welcome Masha Alekhina and Nadya Tolokonnikova of Pussy Riot who will discuss their plight at the hands of Russian prison guards in a panel on Saturday.
"Half the people in the world are now claiming their share of respect, power, dignity and wealth," Brown said to applause.  
Each of the event's co-hosts then read a short narrative from the women who couldn't attend but whose stories are left untold, from a nun in the Democratic Republic of Congo to a first time offender who served 20 years for questionable drug crime.
Meryl Streep's daughter Mamie Gummer stood in for her flu-stricken mother, reading the prose and poetry of an unnamed child who has taken to writing and drawing about the war in Syria. "I was at school when it was bombed, some of the children were killed, we thought they bombed all schools, all over the world," Gummer read, adding a certain gravitas to the evening. The child watched the conference via live stream from Lebanon where she and her family are taking refuge.
Then, against a backdrop of staggering statistics, including 150,000 deaths and nine million displaced Syrians, two women activists shared their own experiences surviving bomb attacks in their native homeland, describing what chemical weapons and senseless war look and feel like from the front line. "We washed their bodies, removed their clothing, and put vinegar in their mouths," Hiba Sawan recounted. "We didn't have a lot of time to think about it. We all thought we would die that day."
Ukranian popstar Ruslana Lyzhychko  then brought the house to its feet by serenading attendees with the Ukranian national anthem that she had sung over and over to protesters holding vigil in Kiev's independence square earlier this year. During a brief conversation with Tina Brown, she sent a message to Russian president Vladimir Putin, ""Sorry Mr. Putin, but you look to the past, not to the future. Nobody supports your plan in the world," she said.
The panel discussions concluded with a cordial conversation between the formidable duo of Hillary Clinton and Christine Lagarde, head of the International Monetary Fund. At one point Lagarde wielded a fake hose she said she needed to extinguish the world's economic crisis. Clinton instead danced around moderator Thomas L Friedman's multiple and creatively phrased questions about the former secretary of state's ambitions in Washington. The two women shared a high-powered high five at the suggestion that Lagarde could be president of the European Union Commission and Clinton could be president of the United States.
"Women are the world's most untapped resource," Clinton said.  "Women are better than men at adjusting," LaGarde added.  "So we're a threat."
Brown then interviewed Queen Rania of Jordan over an invitation-only dinner for delegates. 
Saturday's ambitious program will begin with a look at the aftermath of the Arab Spring and its impact on women, moderated by Jon Stewart, host of The Daily Show with Jon Stewart. Panel discussions will also focus on Rwanda, women's education, and an interview with Pussy Riot band members about their treatment during two years of incarceration in a Russian prison camp. Other highlights will include a discussion with the first all-female, all-Muslim U.N. peacekeeping force and female diplomats on the front line. The summit ends on Saturday.