Power of Words
Two Girls Rising
At the Women in the World Summit, two young women meet and share the stories of how poetry and education have changed their lives.
A girl from Peru and a girl from Compton embrace on stage. Meeting for the first time, they have been brought together by education, and by poetry. What were the odds?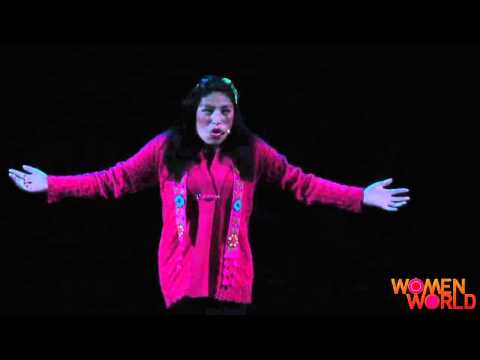 "I love you, you know I've said it a thousand times but only with poor verses such as these can I love you now. No, I will never forget you." Those English words appeared on screen behind Senna, the young poet and star of the documentary Girl Rising, as she came onstage at the fifth annual Women in the World Summit in New York. Senna delivered the poem in honor of her father. Though she spoke in her native Peruvian Spanish, the audience didn't need the translation to feel her emotion.
Senna's father had named her after Xena the Warrior Princess. Unable to read, he didn't realize that the television heroine's name started with an "X," but he did hope that his daughter would grow up brave and fearless. A miner, he was trapped and killed after a mining accident during Senna's childhood.
In a poor mining village, eyes blurred by mining dust, Senna had gone to school at her father's insistence. She began writing and reciting poetry, winning a poetry contest in school and discovering that verse helped ease her pain.
Through journalist Marie Arana, who told Senna's story in Girl Rising and translated for her on stage, Senna talked about her father, saying he always told her words were important, that life would deliver blows so powerful and put rocks, big rocks in her way but she'd be able to survive.
This point – the power of words to save lives is the very inspiration of Girl Rising. "It collects stories of girls, who through their words and education have pulled themselves forward," Arana said.
Her poetry and education – and participation in Girl Rising – have changed Senna's life: in a few weeks she will begincollege.
Traveling from California was a girl who wanted to give Senna something herself.
"There is a little piece of Senna in all of us – the unbreakable Warrior Princess. Our daily workout consists of… the workout of every girl I know and wish I knew – the workout of every girl rising. Who takes two steps forward, three steps back, gather herself and jumps six steps ahead, this is for every girl rising."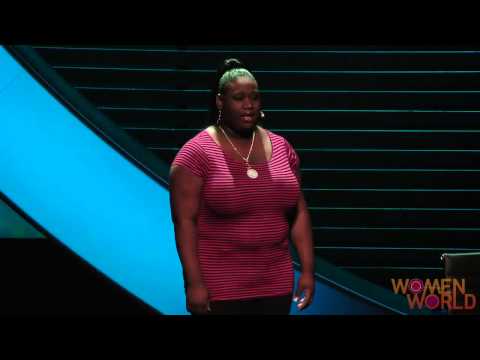 With those words, Marquesha Babers joined the stage. She had written a poem in honor of Senna and Women in the World brought her to New York to share it. From Compton, Los Angeles, homeless for seven years, Marquesha had defied her own odds to become a straight-A honor student and also graduate from high school.
Asked what inspired her about Senna, Babers replied, "She kept a smile. She rose above everything everybody said."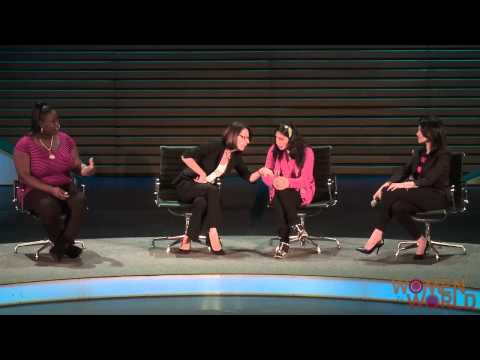 In turn, Senna was asked how it felt seeing how Marquesha responded to her story. Her voice broke "I feel very proud because I was always unappreciated, always not given anything, always by msyself, always with poverty and now I know that I have Marquesha in the world.
Marquesha had asked before coming if the audience would be large. It was. And the full house applauded these two girls rising.