Charged Up
Four Young Female Inventors and Innovators Make Disruptive Technology Sound Fun
Charge a cell phone in less than a minute. Recharge electronic devices remotely. Four young women introduced the audience of Women in the World to the up side of disruptive technologies.
When people attending the fifth annual Women in the World summit at New York's Lincoln Center arrived at the theater where the summit took place this week, they couldn't get past the lobby without encountering cell phone charging stations, courtesy of AT&T, a summit sponsor. More than one attendee was surely grateful. But what the audience learned if it attended the panel entitled "Women Design the Future" was that by next year those charging stations may be obsolete. Or they will be if some enterprising young inventors have anything to say about it.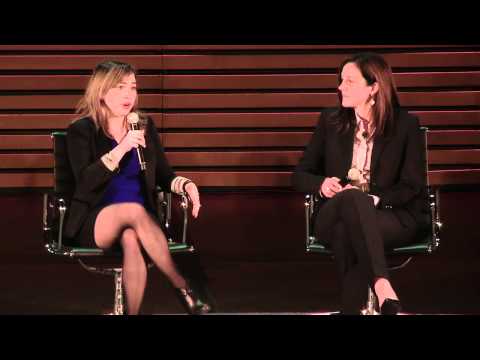 Eesha Khare, a high school student, always got frustrated when her cellphone battery died.  As she explained at the "Design" panel—also sponsored by AT&T—she once even had to go find a pay phone—a pay phone!—because her cellphone had died. But unlike most teens—and most adults—who sigh and resolve that next time they'll carry a charger, Khare did something different. She developed a technology—a Quick Charging Supercapacitor—that can charge a cell phone in less than a minute. The transformative possibilities of this technologies are mind-boggling.
Meredith Perry, another panel participant, envisions a completely wireless world. While studying astrobiology at Penn, she had been standing in a room holding a 20-foot laptop charger.  It occurred to her how archaic that felt—why were we using wireless devices that need wires to charge? If, she asked herself, you can use a remote control to communicate with TV, can you amplify power to charge it? The answer was yes—and she is now the founder and CEO of uBeam, a "cool prototype" that beams energy to wirelessly charge electronic devices. Investors in uBeam range from Yahoo CEO Melissa Mayer to Lady Gaga's manager.
With all the time the public will save no longer having to chase down outlets, we can put our collective energy into understanding, re-discovering, and reinventing electronics. That is thanks to littleBits creator Ayah Bdeir who realized that consumers have for too long been buying electronics without knowing how they work. After studying computer engineering in Beirut, she discovered a new way of looking at technology at the MIT Media Lab and created innovative electronic bricks that snap together with magnets. She started her company in 2011 in shared space in New York City's West Village, and today she sells to 700 countries, 1,800 schools, and has 50 different bits that can create trillions of circuits and objects without wiring or soddering. Think GoldieBlox times thousands.
As Laura Merling, vice president for Ecosystem Development and Platform Solutions at AT&T Business Solutions, put it, these creations fit the buzz term definition of  "disruptive innovation"—revamping business models and making existing products easier and more efficient. Merling explained that, when figuring out new products to bet on at AT&T, they look to their five different innovation centers across the country, where they work with partners, customers, and competitors to solve problems and decide what will have biggest impact on entire customer base.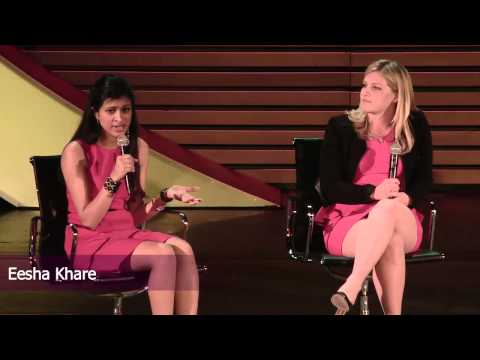 These four young women lit up the stage at Women in the World (five including moderator Stephanie Ruhle of Bloomberg Television). They didn't think that gender held them back or propelled them forward. Perry said she never thought about being a woman in technology but just focused on what interested her. Khare noted that her classmates were divided evenly by gender.
Ruhle did point out that only 8 percent of companies have women CEOs. But she also noted that in the not so distant past, when we talked about breakthroughs, we talked about men. On Friday, four women were talking about breakthroughs, or as Bdeir put it, searching for "a way to break tech open, to increase access, understand, reinvent and participate." In other words, disruptive innovation. The way these young women describe it, it actually sounds like fun.