Presidential Pearls
Jimmy Carter's Latest Battlefield
The nearly 90-year old former president pledges to rededicate himself to fighting for rights for women. Lloyd Grove reports from the Women in the World summit.
Jimmy Carter doesn't mind courting controversy. At age 89, the 39th president of the United States says pretty much what he thinks, even when he knows that some of what he says will raise hackles and ruffle feathers.
Thus, in an interview with Yahoo News anchor Katie Couric during a Friday afternoon session at the Women in the World Summit at Lincoln Center, the former president asserted:
·      "The United States is the No. 1 warmonger on earth. We've been to war more than any country on earth since the United Nations was founded."
·      The Catholic Church's centuries-old policy that "a woman can't be a priest" is "not helpful" to the cause of women's equality in both religion and secular society.
·      While the U.S. is ranked 78th in the world in terms of the percentage of female office-holders--only 18 percent compared to a global average of 23 percent--"the best nation in this hemisphere [in terms of female political leadership] is Nicaragua."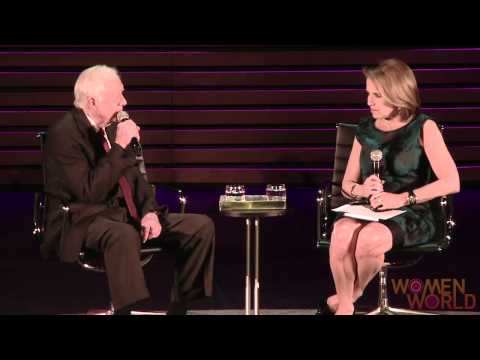 Carter, who turns 90 in October, was eager to promote a new book titled "A Call to Action: Women, Religion, Violence, and Power," his 28th, that tackles the second-class status of women across the globe, the role of religious extremism in the abuse of women and girls, and what can be done about it.
He told Couric that he plans to focus his Atlanta-based international foundation, the Carter Center, to women's rights. "I think I'm going to devote a good bit of the rest of my life to this particular issue as the preeminent human rights issue of the Carter Center," he declared, to wild applause. Indeed, the former president received two raucous standing ovations from the high-powered audience--on taking the stage and leaving it.
His comment about America's "warmonger" tendencies , however, prompted the barely audible sound of a couple of hands clapping.
Carter, a Nobel Peace Prize laureate whose post-presidency has been a model of global good works, offered some shocking statistics. He said that because of oppressive social and religious norms , families in many countries "kill the girls when they're born. One hundred and sixty million girls have been killed in this generation. It's the worst crime that's ever been perpetrated," he said. "That's four times the number of deaths in World War II, which was the worst conflict in history."
He said every year around the world, 800,000 girls are sold against their will into sexual slavery--100,000 of them in the United States. "In Atlanta, Georgia, 200 to 300 girls are sold into sexual slavery every month," he said.
He suggested that male customers of brothels be publicly shamed as a way of discouraging and reducing sex trafficking. "There's not a whorehouse in America that's not known by the police, the chief of police, the mayor and the city council," Carter said. "The police are either bribed or have free sexual favors," he said. "This is a horrible situation."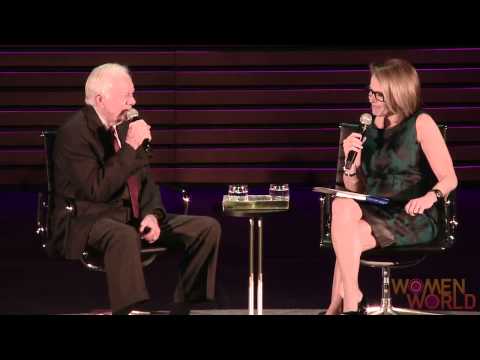 Carter, who graduated from the Naval Academy at Annapolis and served aboard nuclear submarines in the 1950s, was also critical of the Pentagon brass and its insistence that commanding officers retain extrajudicial authority over the disposition of military rape prosecutions. An effort to change the law to remove that authority--spearheaded by New York Sen, Kirsten Gillibrand--fell short by five votes in the Senate recently.
Addressing the phenomenon of sexual discrimination by male-dominated religious authorities, Carter said that he and his wife, Rosalyn, left the Southern Baptist Convention after "fundamentalists…took over" a decade ago and declared that women could no longer be pastors, deacons, or even teach a classroom that includes boys.
"My wife and I withdrew from the Southern Baptist Convention and we both belong to a small Baptist church in Plains, Georgia…My wife is probably the most famous Baptist deacon in the world," Carter said with a grin, adding that he continues to teach Sunday school every weekend. "We have a very deep commitment to equality of treatment between men and women in the service of God."
Meanwhile, he described a Carter Center effort in Africa to reduce the incidence of trachoma, a fly-borne eye disease, that had been made worse because women were forbidden from relieving themselves outdoors and had to do so in living quarters under primitive conditions.
The solution, particularly among villagers in Ethiopia, was to teach them how to build toilets. "We thought we'd have 5,000 toilets by the end of the year. The women took on the project and we ended up with 86,500 toilets."
To which Couric said: "You're very proud of that…Thomas Crapper has nothing on you."