Different Stories
Jon Stewart Leans In
Women who lived through the Arab Spring give the Daily Show host an earful about their experiences—there were many disparate Arab Springs—when they testified at the Women in the World Summit's 'World on Fire' panel in New York City.
One doesn't automatically associate Jon Stewart, the king of cable news comedy, with a topic like the role of women after the Arab Spring, but after listening to him expertly moderate a panel surrounded by four Arab spring activists—three of whom were draped in hijab head covers—it made perfect sense.
The Daily Show host opened the Women in the World panel discussion this morning with a lighthearted joke: "The first challenge with any conversation about the Arab spring is pronunciation." Then he aptly introduced all the panelists joining him on stage at New York City's Lincoln Center—Zainab Salbi, the Iraqi producer of Awakening; Dalia Ziadi of the Ibn Khaldun Center; Nadia Al-Sakkaf, editor-in-chief of the Yemen Times; and Dr. Alaa Murabit, 24-year-old founder of The Voice of Libyan Women, who Stewart playfully called the "Doogie Howser of Libya." 
He then leaned in to hear what they had to say.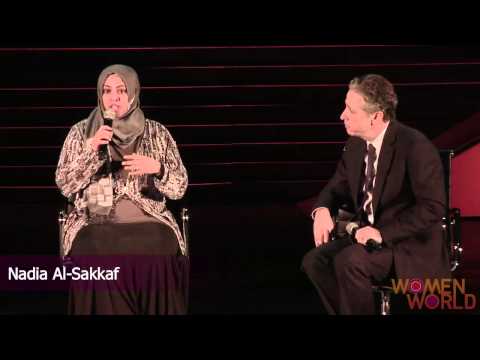 The smart conversation ran the gamut from how each woman's country dealt with the role of women during the Arab Spring uprising to the oft-ignored fact that women are the mothers of the fighters who rule the masochistic societies. 
"People think of the Arab Spring as a singular event, but instead it played out differently each country," Stewart said. "When groups that don't normally have a voice suddenly raise up, that excitement and that potential is often met with a pretty serious backlash from people who had controlled those voices."
"We here in America, have had so many women presidents, because we're such an open and liberal society," he joked. "But you will catch up to our record."
Al-Sakkaf agreed. "For Yemen, we were surprised to see how we created a monster we can't control any more," she said.
Stewart then asked each woman to highlight the most serious obstacle their country faces. Murabit talked about how the accumulation of weapons in Libya has led to greater insecurity. "We didn't have institutions," she said, referring to life under the rule of Muammar Gaddafi. "Then we started rebuilding a nation by giving citizens weapons. With insecurity, women tend to take the back burner."
The panelists discussed the role of women in government, with Stewart citing the fact that 300 women are standing in parliamentary elections in Afghanistan this week (in 2013, Stewart invited Fawzia Koofi, Afghanistan's first female parliamentarian on his show. He then sarcastically quipped that the women on the panel could learn a lot from the United States: "We here in America, have had so many women presidents, because we're such an open and liberal society," he joked. "But you will catch up to our record."
Murabit then explained that education is key. "We need to make conversations about women's rights and religion," she said. "Religion is important because that's how autocratic regimes thrive. We need to change the dialogue." Stewart synthesized the discussion: "The dreams of what you idealize and what you want fall apart very quickly in insecurity and chaos," he said. "That points to the appeal of authoritarian regimes."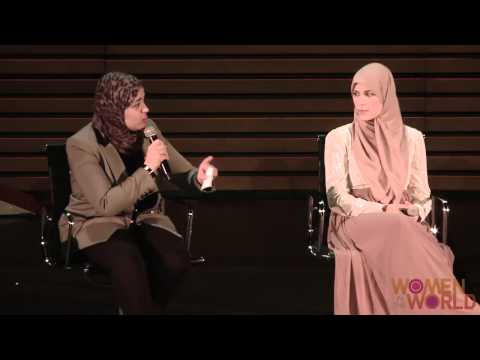 Stewart closed the panel with a poignant compliment about how fast the changes are taking place in the Arab countries. "In modern times, we are impatient about change," he said. "But we should be optimistic. It took us 150 years just to free our slaves."
Backstage, Stewart told The Daily Beast that he got interested in the aftermath of the Arab Spring by "happenstance" and through "osmosis" when he directed and co-wrote the screenplay for the film Rosewater based on the memoir Then They Came For Me by former Newsweek journalist Maziar Bahari about his ordeal in an Iranian jail where he was detained for 100 days after trying to cover Iranian elections in 2009.
"I still naively believe that we can all make a difference," Stewart said.  "We can all make a difference even just by learning more."