Talking Back
Pussy Riot Won't Back Down
Members of Pussy Riot tell a Women in the World audience about their jail time and their determination to continue opposing Putin's authoritarianism.
"It was the beginning of Putin's third dark age," said Nadya Tolokonnikova, a member of Pussy Riot. She was talking about the vote that re-elected Vladimir Putin's as Russia's president on March 4, 2012. Only one day before that, on March 3, 2012, Nadya and other members of Pussy Riot were arrested on charges of hooliganism for their anti-Putin protests.
Now they are newly free after serving their sentences, and the new year has moved between dark prisons and bright lights for Nadya and Masha Alekhina, another member of Pussy Riot.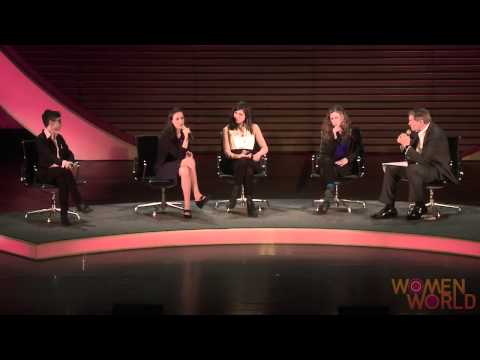 Since their release from prison on December 23, 2013, they have joined Madonna onstage at a stadium concert in Brooklyn and returned to Russia where they were assaulted in the street and briefly jailed for continuing to protest Putin's authoritarianism.
Friday, they took the stage for a panel at the 5th annual Women in the World summit in New York with moderator Charlie Rose and Masha Gessen, author of a new book, Words Will Break Cement: The Passion of Pussy Riot.
The best explanation of what it's like to live in Russia today comes from Pussy Riot's performance, Gessen said. She described their performance as one long arc beginning with their protest inside the cathedral and ending with the statements they read at their sentencing. In Gessen's interpretation, the essential elements of Russia's political situation, from the crackdown on political dissent and media to the rising tide of conservatism nationalism, can all be gleaned from Pussy Riot's performance.
Pussy Riot's rebellion wasn't only against Putin. The performance that led to their imprisonment was staged in a cathedral to protest the Orthodox Church's close ties with the political regime. "We understood what Jesus Christ would have done in such a situation," Nadya said. "He would have gone to the cathedral and he would have threw out all these traitors."
After serving their own prison terms doing hard labor, forced to sew military and police uniforms for up to 14 hours a day, the two members of Pussy Riot formed a new NGO, Zona Prava, to advocate for prisoners' rights.
With Zona Prava, the women are working on a petition to cancel forced labor in Russian prisons. They're also questioning the moral underpinnings of the prison system itself. "What is a Russia prison?" Masha asked, it's "first of all it's a slave system," she answered.
Prison exposes "the way the weakest person in society is treated," Nadya said. "It demonstrates the whole essence of the government mechanism." Their goal with Zona Prava is to "teach the government to respect the weak," Nadya said.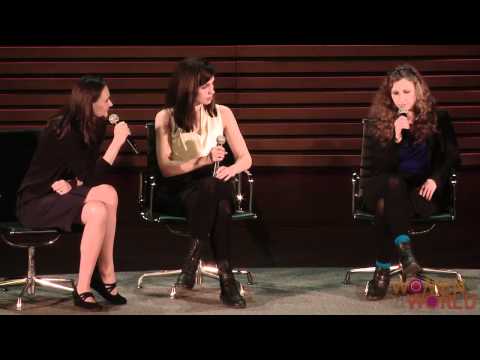 When Charlie Rose asked how, as mothers, they saw their future and the risks of their political activism, Masha countered that "our children, as opposed to Putin's children, live in Russia."
"We're trying to build a good future for our children," she said. "It's our country and nobody but us is going to make it what we want it to be. A free country."
Russia now is operating on the "same Soviet system that treated people as nuts and bolts in a giant machine." Masha said.
Responding to the repressive policies that shut down the last vestiges of the country's free press and the militarism culminated in the invasion of Crimea, both women saw reason for hope.
"A different Russia already exists," Nadya said. She pointed to the large anti-war rallies that Russian citizens held last month in Moscow to protest their government's policies.  
"A great Russian culture can grow and develop without an authoritarian regime over it. No to censure and oppression," Nadya said.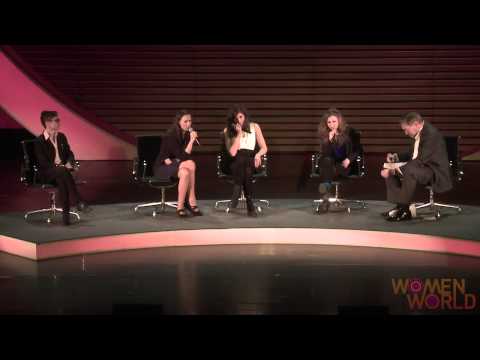 As they have done in almost all of their public events since being released, the two women brought attention to the Russian political dissidents who are still in prison for their peaceful protests.
"Right now about 17 people are in prison on politically motivated charges and they didn't do anything. They went out to protest and support free elections two years ago," Nadya said. The May 6 protestors, as they're known, are "suffering but no one knows anything about them because there is no such thing as free media in our country anymore."
"I want you to remember these people—their voices are being robbed away from them and you must be their voice," Nadya said.
"Please remember there are political prisoners in Russia."