#WITW14
Voices from the Syrian inferno
Hiba Sawan and Rania Kisar spoke with Cynthia McFadden on the devastating situation in Syria—and why they will always to love their country.
Every four minutes a Syrian person is detained. Every ten minutes a Syrian person goes missing. Every 13 minutes a Syrian person is wounded. Every 15 minutes a Syrian person is killed, Rania Kisar, founder of the Syrian Women's Revolution Committee, told the 5th annual Women in the World Summit at the opening panel discussion. Since the conflict in Syria began three years ago, 150,000 people have been killed; nine million have been displaced. Two-thirds of the affected are women. No matter how often these statistics are repeated, they don't really hit home until someone who was there gives them a voice.

Syrian activist Hiba Sawan did just that when she described what it is like to survive a chemical attack that killed 2,300 people—900 of whom were women and 700 of whom were children—during the first panel of the 5th annual Women in the World summit on Thursday night.  She explained that a chemical bomb sounds no different than a regular bomb, which is an experience that Syrians share almost every day.
"We had been hearing missiles and bombs but we didn't recognize that the bombing was different," Sawan said.  The worst of the bombing hit a neighboring village, so she and her cousin found their way there to help. "Our eyes were burning and we didn't imagine that it could get worse," she said.  "When we arrived, I saw dozens of corpses in the streets, many of them were women and children." They made their way to a hospital, which was filled with people writhing in pain, screaming and shouting.  "We washed their bodies, removed their clothing and put vinegar in their mouths.  We didn't have a lot of think about it.  We all thought we would die that day."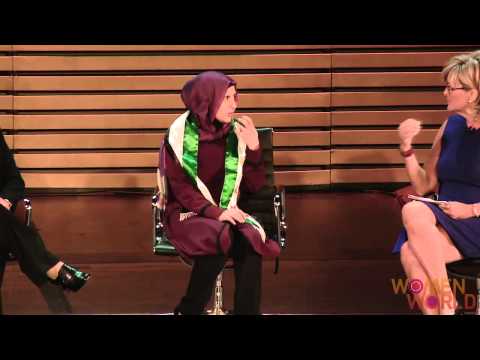 Sawan lost her sight for nearly a week after the attack, but she didn't give up hope.  She, along with fellow panelist Rania Kisar, founder of the Syrian Women's Revolution Committee, are part of a growing movement of Syrian women who are working to rouse the international community to do something to help. Kisar also lived through a bombing attack when she was in Syria going door-to-door to help educate homebound Syrian women. She says that even when the bombing worsened, the women asked her to continue her work. "If we are going to die, we want to die educated," she says they told her.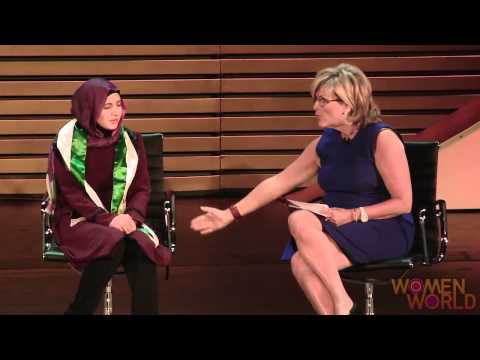 Her own experience surviving a bomb is not so different from Sawan's, even though the munitions were barrels, not missiles. Fear is fear and the threat of death unites them in their individual experiences.  Kisar said at first they heard helicopters overhead and soon the townspeople started yelling, "they are descending," which means they were about to drop bombs. "I looked around and saw mothers carrying their children, looking for a hole to jump into like a rat."  She says they dropped six barrel bombs, which destroyed two buildings. She and others nearby ran to see if they could help. "I saw a three-year-old child in the ruins," Kisar said.  "I had no idea that the back of his head was completely open. He looked just fine from the front."  She had to leave him.
Both women described the daily horror behind the statistics, as well as other seemingly insurmountable challenges, such as lack of power, fuel and schools in the country they still love. The illiteracy rate is growing. Hope is dying.  Children over the age of six have not attended school for the last three years.  "The future is dead. I have read about the situation in Kosovo and the Holocaust," Kisar said.  "But all of that is happening at the same time in Syria."  
And while hope may be dying for Syrians on the ground and those who are watching from the sidelines outside their country, it is also increasingly challenging for organizations trying to help to reach their own goals. David Miliband, president and CEO of the International Rescue Committee, who also joined the panel, said that Syria is not only the worst humanitarian crisis of this era, it is also a defining one because of the failure of humanitarian aid.  "If there is anything worse than not having a humanitarian plan, it is having one that does not work," he said.  
He explained that Syria has not been able to hold people's attention.  His organization raised more money for the natural disaster in the Philippines in four or five months than they have been able to raise for Syria in three years.  "The temptation is to turn away," Miliband said, especially after crises in Iraq and Afghanistan proved unsolvable.  But he also said that politicizing humanitarian aid is not the answer. "Humanitarian aid can stop the dying, but it takes politics to stop the killing," he said.  "But rather than politicizing the humanitarian movement, put humanity in politics."