Taking Charge
The Triumph of Rwanda's Women
Two decades after genocide left more than 800,000 people dead in Rwanda, the country has rebuilt itself and the Women in the World summit hears how women played a huge part in that country's amazing success.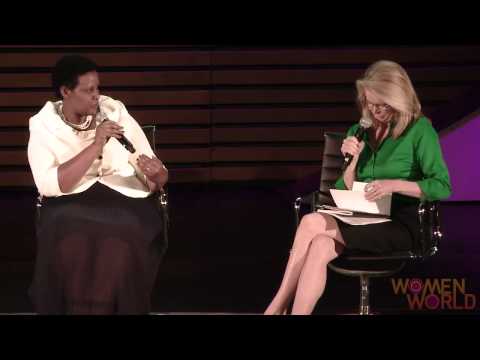 Twenty years ago, Eugenie Mukeshimana was eight months pregnant when genocide broke out in her homeland of Rwanda. As hundreds of thousands of Rwandans were slaughtered in a matter of only months, Mukeshimana saw first-hand the fantastic lengths her fellow mothers and women would go to survive some of the greatest horrors in human history.
At 23, she was separated from her entire family, including her husband. She found shelter in a home where she was forced to hide under the bed of children who were not aware she was squeezed against the floor beneath them. Neighbors were spying on one another, and children were often the first to be interrogated: did they hear unusual voices? Were their mothers suddenly not giving them leftovers?. It was an easy way to find out if those parents were harboring refugees.
When her labor began, Mukeshimana was all alone. "I didn't know what to do. I knew I had to cut the umbilical cord. I didn't have any help. I actually used a rusty old knife. That's all I could do," she said Friday at the 5th Annual Women in the World Summit at Lincoln Center in New York City.
The baby survived, she said, "and I survived somehow."
Mukeshimana did not merely survive. She triumphed, and the most amazing part of her story is that she is not unique. Indeed, she is typical: In the wake of the Rwandan genocide, it was the women—the widows, the orphans, the newly childless—who led the rebuilding and of a country soaked in the blood of 800,000 to 1 million of its citizens.
"We had women survivors of genocide. We had women coming as refugees," said Oda Gasinzigwa, Rwanda's Minister of Gender and Family Promotion. "We had women come together and saying 'Enough is enough. How can we rebuild our country?' The choice was to do it differently. The women came together and said, we have widows, we have orphans, we need to work together."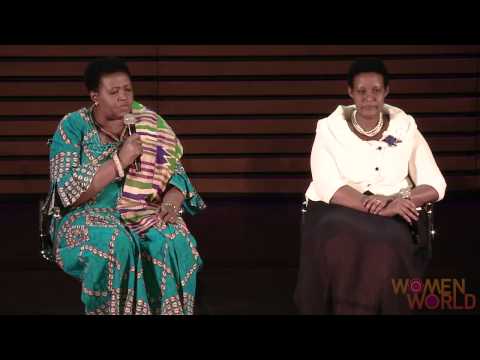 Rwandan women took active roles in the social and emotional reconciliation of their devastated country. They also helped redraft the nations' constitution. As a result, women in Rwanda hold a remarkable amount of power. They make up 64 percent of parliament, 40 percent of the cabinet, and more than 50 percent of the judiciary.
None of this happened quickly. At first, especially,  "We had to encourage women to speak," says Ambassador Fatuma Ndangiza, deputy chief executive officer of the Rwanda Governance Board. At the local level, women councils were created for women to feel comfortable to start sharing their voices and expressing their ideas for what they want to see in government.  But even then it was not easy, Ndangiza said:  "A woman we encouraged to run at local level said, I've never chaired a meeting in my own home, how can I do it in my village?"
Giving women a greater voice in government and society has benefitted both sexes. "The empowerment of women was the empowerment of all the people at the same time," says Professor Mathilde Mukantabana, Rwandan ambassador to the U.S.
And women's role in the rebuilding of Rwanda may set a precedence for the rest of the world to follow.
"We tend to think this is the story just of Rwanda, but this is the story of the world," said Swanee Hunt, former U.S. ambassador to Austria and founder and chair of The Institute for Inclusive Security. "I know there are women with the same drive. They are highly, highly motivated because they want security for their children. They work across the line. They are seen as less threatening because they weren't the ones wielding the machetes, so they have a way of assuming power that men don't have."
"I feel Rwanda is less corrupt is because we have men and women," says Ndangiza. "We don't steal. We have shown society that the moment women are in charge, the country is peaceful. It is an economic dividend. It is the social dividend. It is the way to go."