#MIPSTERZ
Why Does the Hijab Get Such A Bad Rap?
Many modern young Muslim women choose to wear it as a badge of empowerment. They explained the strange politics of the head scarf at The Women in the World summit.
If you ask five random non-Muslims what they think of when they see a woman wearing a hijab (headscarf), you will likely get five different answers.  What you probably won't hear about is empowerment and choice, the words many Muslim women use when asked the same question. 
"I think that many of the negative associations with hijab are part of a larger conversation," MIT researcher and "curator of cool" for Mipsterz or Muslim Hipsters, Layla Shaikley told The Daily Beast in an interview ahead of Saturday's Women in the World panel How Hip Is Your Hijab? "As a Muslim, my choice to wear hijab often adds a pre-constructed storyline to my identity due to the isolating narrative constructed for me by Islamophobes and terrorists alike."
Shaikley joined Ibtihaj Muhammad, a sports ambassador for the United States Department of State and a ranking member of the USA national fencing team, along with Mahnaz Razaie, an Afghan filmmaker and photographer on Saturday's panel, moderated by Zainab Sainab Salbi, co-creator and executive producer of Awakening.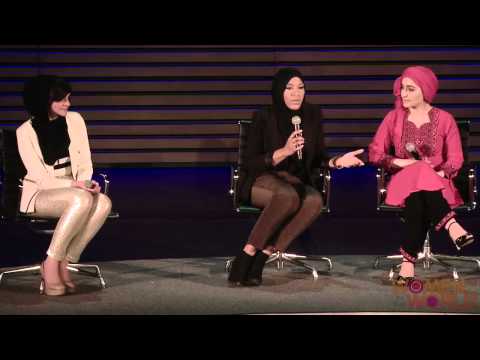 Like her co-panelists, Shaikley, who was born in Los Angeles to Iraqi parents, says she often struggles with her choice to wear the hijab, which is an Arabic word that means barrier or partition and is not necessarily limited to just the traditional head covering but in some Islamic societies refers to the veiling of the whole body.  If she takes it off, Skaikley says she would be seen as just someone ethnic, but by leaving it on, she is literally wearing her beliefs on her head.  "Throughout the years, I learned that the implications of one piece of fabric could be incredible. I could be seen as sadistically oppressed, voicelessly docile, pitifully lacking agency, and naïvely desexualized when not forcefully hyper-sexualized," she says.  "Those descriptions have nothing to do with me, though. I am relentlessly optimistic, painstakingly curious, confidently athletic, entertainingly awkward, imprudently adventurous, and irrationally proper when not uncomfortably loud."
The stereotype is repeated over and over by Muslim women in the United States who make the conscious decision to wear the traditional head covering as a statement of their religious beliefs.  Muhammad, an African American who grew up in New Jersey, says her parents encouraged her to take part in a sport that would allow her to participate without having to alter the uniform. She was the first Muslim woman to represent a U.S. sports team in international competition, which she says was a shocking novelty when she began.  She recounts how her successes in fencing were initially overshadowed by attention to her last name "Muhammad" and her hijab. But despite the discrimination from teammates and coaches during her impressive athletic career, Muhammad says she hopes people find strength to live outside cultural norms and follow their dreams through the obstacles that she and other Muslim women face.  "Our society has painted its own picture of who the Muslim woman is," she told The Daily Beast in an interview before Saturday's panel.  "I think it is important that we tell our own story."
Rezaie was just 8-and-a-half years old when the Taliban came to her village in Afghanistan.  "It was a dark time," she told Saturday's audience.  "We couldn't go to a school. We had lots of problems. They were kidnapping girls."  She and her family went to Iran and eventually Rezaie came to the United States to Middlebury College, where she faced other obstacles. " I felt isolated because I was the only girl in college wearing hijab," she said.
No one sat by her in classes or in the dining hall until the rooms were full and there was nowhere else to sit.  So she made a film about being a Muslim and interviewed men and women on her campus, asking many of them to try on a similar scarf that she wears. She said it changed her life.  "People asked me if I combed my hair," she laughed.  "But it created a way for the students to ask questions. "
Shaikley believes the discrimination stems from the fact that Muslim Americans are often underrepresented or misrepresented in the media. "It is easy to sensationalize Muslim Americans without a more accurate portrait of the leaders, artists, intellectuals, academics, and educators that the community offers to our country every day," she says. 
Muhammad  agrees.  "Fencing was uniquely accommodating for me," she explains, since it was a sport in which she didn't have to alter the uniform.  But she still faces scrutiny.  "When most people see an elite level athlete, they don't picture someone like me."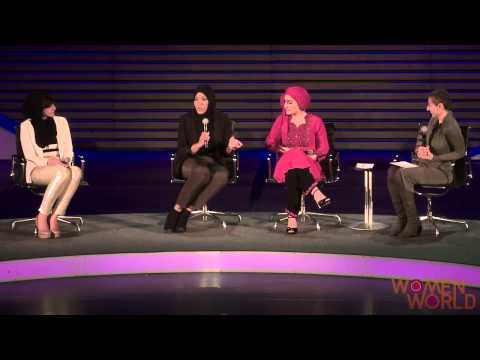 Until educational awareness is introduced in a positive way in American culture, Muslim women will continue to face discrimination.  Shaikley worries that the negative stereotypes will stop many Muslim women from reaching their full potential but she hopes not.  "Regardless of whom they are targeted at, negative stereotypes often limit potential," she says.  "Stereotypes have the power to define expectations internally, convincing the stereotyped of what their limitations are. I would caution against viewing Muslims, or any other minority, as a monolith."
She also says that Muslim women have to help younger girls.  "We need to be at the forefront of shattering stereotypes," she says.