Global Advocate
High-Stakes Power
The U.S. Ambassador to the U.N discusses having the power to address problems she once fought only with words.
As a writer, Samantha Power said she had "more alibis for myself" when she came away from a war-torn area. "If I thought I told the story in a compelling way," shining light on a problem someone else would address, she had done her work. Now when she descends into a country, it's in a big blue-and-white U.S. of A. plane, and the expectations she has for herself, and that the people on the ground have for her, are entirely different now that she is the U.S. Ambassador to the United Nations.
"As someone who has a direct line to the President, you want to look under every rock, find every dollar, take advantage of every private partnership you can make…. When you meet people as a journalist they're desperate for you to tell their story, now they're desperate for you to find a way to help them."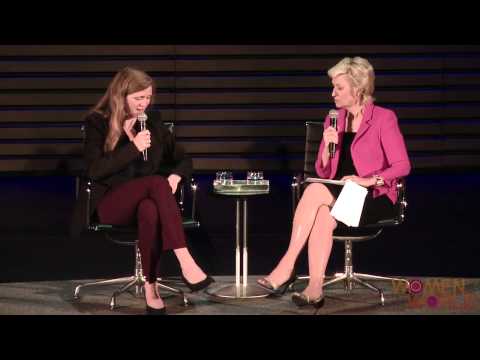 Power was speaking to moderator Tina Brown at the Women in the World summit Saturday (that night she was getting on a plane to Rwanda to commemorate the 20th anniversary of the genocide). She followed a panel of gay activists from Nigeria and Uganda who spoke of the impact of repressive anti-gay laws. Power said what's happening in those countries, and in Russia, has gotten a lot of attention and should be put in context. Eighty countries have laws criminalizing homosexuality and seven impose the death penalty.
"There is an almost contagion effect in sub-Saharan Africa," she said. "And now the politics are cutting toward passing these laws because it's politically popular."
Power said the administration can withhold funding from those who propagate hate, and review its asylum policies, but this is a "long game," she said, pointing out the U.N. only acknowledged a few years ago that LGBT people have rights like everyone else.
Counseling patience is not something Power was known for when she was an academic and a journalist. But she wears a different hat now, and when Brown asked her about how she squares her human-rights passion with the realities of governing, Power pushed back. She called the notion of a "trade-off" overstated.
Women in the World delegates had heard heartbreaking testimony from Syrian women, how they've been displaced by war, and how refugees are straining the resources of neighboring Jordan. Power defended the administration's policies, saying they've provided humanitarian aid to the Syrian people, plus some assistance to opposition fighters, and she urged the audience to understand that military intervention is "the only tool we haven't employed."  
Power was among those in the administration who openly advocated for President Obama to use missile strikes against Syria to retaliate against the regime's use of chemical weapons against its own people.
Obama backed away from the use of force when it became obvious he could not get congressional support. Power said the resulting agreement to get rid of the chemical weapons will be a significant achievement, although she conceded only half the weapons have been disposed of, and the end-of-June deadline is looming.
Listening to her measured response, one wonders what Power the journalist might have to say. Her words had power in her Pulitzer Prize-winning book on genocide. Now she's got other tools, and she understands their value and how to deploy them.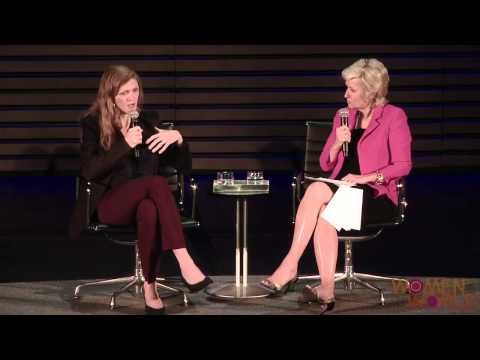 Power had just arrived for a family vacation last August in Ireland, where she was born, when the crisis blew up over Assad's use of chemical weapons in Syria. She had her two children with her, ages four and one, and as soon as she got off the plane, her Blackberry started buzzing with e-mails about the Syrian regime using chemical weapons "again," as she put it. "So my challenge at that moment was not 'do I come back or not'—that was obvious," she said. There were high-level meetings in Washington that she needed to be part of. The more immediate challenge was setting up secure communications in the remote village she was visiting.
If she boarded a plane right away, she'd miss those meetings. "So the clock was ticking," she said with a wry laugh. In the end, she was on the ground in Ireland for a day and a half before getting back on the plane with her children. Landing in the states, she was greeted by a blaze of cameras, and then a round of negotiations at the U.N., that when they finally ended, her four-year-old looked at her and said, "No more Security Council resolutions." When it comes to trade-offs, Power is living them.