Fighting Back
When Gay Can Lead to Jail—Or Worse
Homosexuality is illegal in 38 countries in Africa. Activists say the continent is on the leading edge of a global a wave of homophobia.
Film director Roger Ross Williams blames American and Ugandan religious leaders for anti-gay violence in his country. He described to the fifth annual Women in the World audience that he has been in churches in Uganda where pastors hold up the bible and say, "This book says these people have to be killed" referring to gays and lesbians. In his film "God Loves Uganda", Williams seeks to show a direct link between the American missionaries' work in Africa and the blood on the streets in Uganda, where homosexuality is currently a crime that carries a life sentence for certain sex acts. "I believe the solution has to start with the church," he says. "The church is so strong in Uganda and Nigeria, and what's not going on is that there is no voice from the progressive faith community."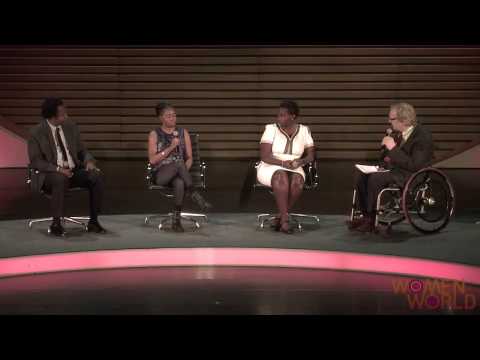 Homosexuality is currently illegal in 38 countries in Africa. Clare Byarugaba, coordinator for the Civil Society Coalition on Human Rights and Constitutional Law and Adejoke Tugbiyele, an artist and filmmaker who is part of The Solidarity Alliance for Human Rights, joined Williams on Saturday's panel to share their own stories of discrimination, threats and a fear for their lives for their sexual orientation. 
Moderator John Hockenberry asked Byarugaba if she would be arrested for taking part in a panel like Saturday's if she were in Uganda. "Yes, I would," she said. "My lifestyle is very legal, my work is legal, but the government thinks we are actively promoting homosexuality."
Adejoke, who left Nigeria abruptly after being threatened for being a lesbian after coming out publicly on CNN, says the same-sex prohibition act is really a mask of distraction for other problems African countries face. She says she has been vocal to help others. "I felt I was in a position of responsibility to speak to the issues that I was covering in my work," she told the audience, saying that if she didn't take the opportunity, "then what was I working for?"
Williams blames the surge in anti-gay legislation on what he calls a global wave of homophobia. He says that the president of Uganda took license, using the global conversation on gay rights and homophobia, to persecute gays. Adejoke agrees. "Missionaries have done great work in Africa," she says. "But they push a message that biblical law is above civil law."
Williams says when the church pushes anti-homosexuality, people listen. He says evangelicals likeScott Lively have propagated anti-gay hatred. "It's about what America represents to Uganda, Ugandans love Americans," he says, which is why men like Lively hold sway.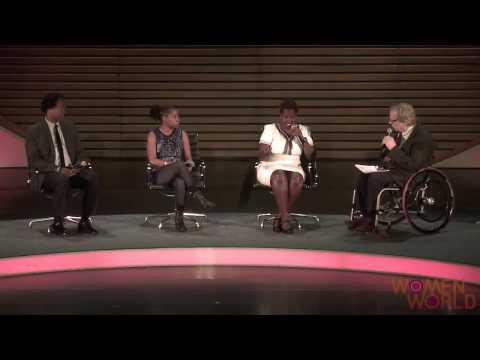 All of the panelists agree that the LGBT community in Africa is being used as "scapegoats" for broader issues. Byarugaba worries that things are only getting worse. She described to the audience how just days earlier there was a raid on a U.S.-funded AIDS project in Uganda where 14 men were removed, beaten and shamed. The men now live without resources, afraid to return to their homes. Adejoke believes that education is the key when it comes to the situation in Nigeria and other places, and since most people get their information from church-based services, that's where new information has to come from. She described how in Nigeria she once saw a church service in which a woman claimed to come out as a lesbian on the stage with a pastor present. She told the parishioners that "demons" made her become a lesbian then allowed the pastor to slap it out of her. "People then throw money at the pastor," she said. 
"We have been dehumanized," Byarugaba said. "We have been presented as these evil people by the church."