First Ladies
Nene Goes to Washington
In a surprise twist of fate, the Harlem schoolgirl had the chance to interview Michelle Obama. She talked about the experience with Gail Sheehy
The Harlem schoolgirl asked her aunt to style her hair just like First Lady Michelle Obama's. That was months before she was selected by the Young Women's Leadership School to interview Mrs. Obama for the Women in the World Summit.
Thrilling. Intimidating.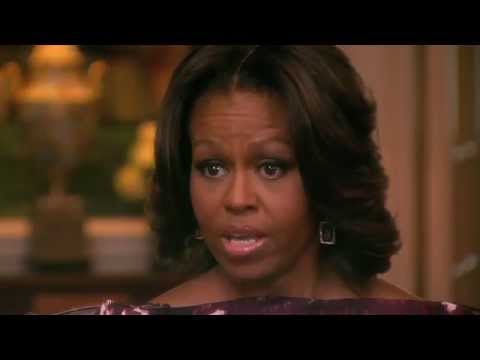 A video tape of the interview was shown today at the summit at New York's Lincoln Center. Nene Sy (pronounced nay nay sigh) also appeared on stage with Barbara Walters and Ann Tisch, who founded the 13-school Young Women's Leadership network. Mrs. Obama "talked about accepting failure," Nene said. "To me that meant you had to build from that and push forward."
Nene resembles Mrs. Obama. Tall and lean, daring in spirit, she even has the same wide smile. But she had never interviewed anyone.
Then she remembered that Mrs. Obama teaches young people that nothing is more important to their future than finishing college. Nene, whose parents are from Mali, will be the first in her family to go to college. A senior, she will enter Gettysburg College in Pennsylvania next fall.
What gives her courage was a family tragedy that changed her life at age 11. Nene was ecstatic when her mother delivered twins, but they were premature and the first girl died within a few days. Her baby sister clung to life. Every day after school, her father, Mohamadu, a taxi driver, would take Nene to the hospital to see her sister. For the next six months, they often kept the vigil overnight.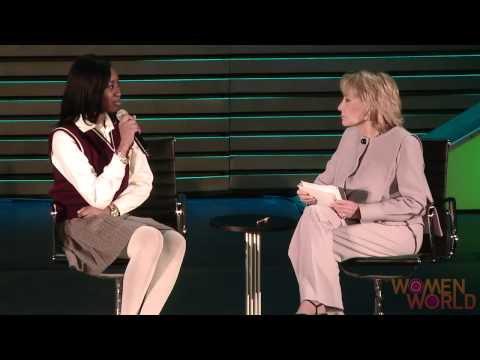 "When I lost the sister I expected to grow up with, I was devastated," Nene told me. But she never forgot how kind and compassionate the doctors were, calming her mother and supporting the family. She always knew she wanted to help people when she grew up, but this experience solidified her dream. Nene would study medicine and become a surgeon.
Ever since, her father has picked her up after school every day and they do something together. "She is my best friend," says Mohamadu Sy. The 18-year-old is so pretty, when we met at the train station, Nene couldn't walk down the street with being stopped by a boy. "There is time for boyfriends," said her father. "Education comes first."
Nene prepared rigorously for her meeting with the First Lady, watching dozens of videos of her speaking. "I heard her say she wants the United States to be the top country in education by 2020." That motivated Nene to do mock interviews with the documentarian, Betsy West, who would video the meeting. She followed a tip from Barbara Walters' playbook, passed on by West, and pasted all her typed questions on easily handled index cards. Ann Tisch, founder and president of the Young Women's Leadership Network of four schools in New York, coached her on personalizing her questions.
Nene was shaking inside when she pressed the pleats of her school uniform skirt, but dressing for the White House in a vest with her school crest made her proud. Once seated in the Diplomats Room, the shaking became obvious. Mrs. Obama's communications director reassured her that the First Lady was the mother of girls and would put her immediately at ease. And she did.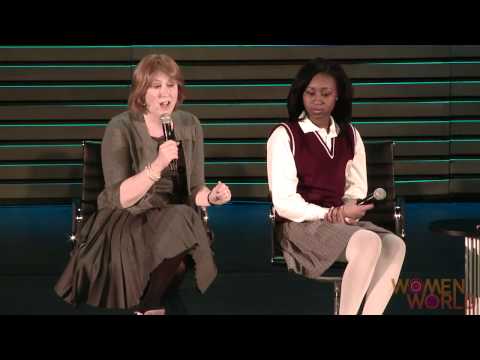 They talked about how tragedy can be inspiring. Shortly before she was to be married, Mrs. Obama said, her father died, then her closest friend. How could she could go through with such a joyful occasion when she was feeling sad and helpless? She realized that no matter how bad things get, you have to push yourself forward. "When you think you can't go on, that's the time to get up and give it a hundred-and-twenty percent," she said.Nene promised herself she would
pull out that mantra whenever she feels overwhelmed.
At the end of their conversation, Nene confessed that when she was younger, she was always self-conscious about being tall, five foot nine. Mrs. Obama admitted she didn't like it either, and she's two inches taller thanNene. "Now I love it," she said. She encourages young women to embrace their height. She advised Nene to sit up straight and walk tall. Nene walked out of the West wing, head held high, back a ramrod. On the train home she told her father her dream. "I want to work with Doctors without Borders."
Nene's father smiled so wide, his cheeks were swallowed in dimples. "Coming from Mali, one of the poorest countries in the world," he said, "nothing would please me more than seeing my daughter helps people like that."