Mothers of Invention
Making the Change They Want to See
The 2014 Toyota Mothers of Invention honorees redefine innovation and entrepreneurial spirit with creative responses to natural-disaster relief and inner-city issues.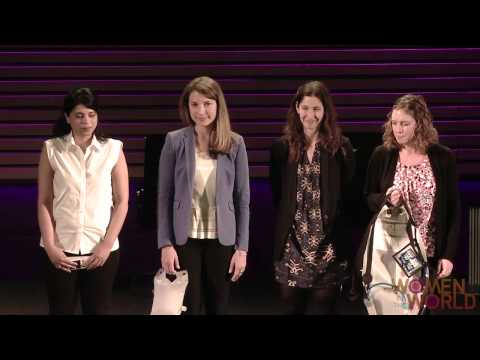 Even though the 2014 Toyota Mothers of Invention may lead very different lives, they are all master problem solvers.
This year's Women in the World Summit brought together big names from around the globe dedicated to shaking up politics, nonprofit and media. But everyday women like the Mothers of Invention continue to prove that sometimes all it takes is a simple idea to incite change.
"The summit has shown us that there continues to be no shortages of challenges in the world today, ones that transcend gender, ethnicity, age, nationality and race," said Flaurel English, vice president of marketing for Toyota. "But the summit has also shown us the power of an idea and the power of a determined individual to turn her idea into actions that drive change."
"The Mothers of Invention: LuminAid and Special Presentation," presented by Toyota, honored four women whose brilliant ideas have completely changed the lives of those around them.
Sometimes, all they need is a little light.
Anna Stork and Andrea Sreshta cofounded LuminAID Lab. After the devastating earthquake hit Haiti in 2010, Stork and Sreshta, who were architecture students at Columbia University at the time, saw the country become enveloped in darkness.
More than 220,000 people were killed and over 300,000 were injured in the quake. And according to Oxfam, an additional 1.5 million people became homeless.
Even though food, water and shelter were immediate priorities, Stork and Sreshta recognized the need for quick, effective lighting on the ground to guarantee safety. Light would also provide comfort to those displaced in ramshackle tent cities, Stork said.
So they developed an inflatable, waterproof solar-powered device that provides pop-up lighting: It has a battery inside what looks like a plastic bag, which the user can inflate like a balloon, and the light is turned on with the simple press of a button. The device has two settings and is rechargeable, as they showed during a live demonstration with moderator and actress Mamie Gummer.
LuminAid started as a school project and ended up evolving into something much more. Stork and Sreshta were able to raise about $50,000 through crowdfunding, five times more than their original goal. Through the "Give Light, Get Light" program, buyers receive a light for themselves while donating a light to disaster relief organizations at the same time. 
The company, only in its second year, has already donated or sold about 100,000 units, including an estimated 15,000 to the Philippines after Typhoon Haiyan last year. 
"Why not problem-solve for humanitarian aid?" Sreshta asked.  
Toyota also honored Lauren Shweder Biel of DC Greens for her efforts to bring fresh fruit and vegetables to kids in the nation's capital, and Tricia Compas-Markman of DayOneResponse, which provides clean water to disaster victims.
Each woman received a $50,000 Toyota Driving Solutions Grant. 
"It has been an honor to meet so many enterprising women who are not just talking about the issues, but finding solutions and mobilizing others to join them. Their passion is contagious," English said. 
Two previous Toyota Mothers of Invention were also at Lincoln Center in New York City: Jessica O. Matthews, the cofounder and CEO of Uncharted Play, Inc., and G. Asenath Andrews, the superintendent of Catherine Ferguson Academy.
Andrews' school provides education for pregnant girls and young mothers in Detroit. She's launched different initiatives at the school, including one where students created their own companies and then bid on different jobs in the program. 
"It was for the first time that some of the girls started thinking about creating their own companies, making their own jobs, giving jobs to other people, and not just looking for a job," Andrews says. 
She noted that possibilities are limitless for the girls and young women if the school receives the financial means to provide for them. Andrews says that being a Toyota Mother of Invention honoree has helped her accomplish many of her goals for the school.
Matthews' company makes the Soccket—a soccer ball that converts kinetic energy into electrical energy to charge small devices (even President Barack Obama is a fan)—and the Pulse, an energy-generating jump rope. She plans to bring the products to favelas surrounding the World Cup stadium in Brazil to encourage people that they don't have to be a scientist or tech worker to be an inventor. In fact, Matthews says her favorite inventor is her mom.
"If we can continue to show people we're just like you, how can we not have a better world?" Matthews said.