Tupac's Coachella Performance and More Hologram Wins and Fails (VIDEO)
Tupac Shakur's back-from-the-dead hologram wowed Coachella this weekend. His 'appearance' was a win—but Will.I.Am on CNN? Not so much. From Mariah Carey to Al Gore, see which holograms worked and which bombed.
Tupac rose from the dead and stole the show at Coachella, performing alongside Snoop Dogg and Dr. Dre. "What the f- is up, Coachella?" a hologram of the rapper, who died in 1996, asked the audience. The walking-and-talking projection is estimated to have cost about $400,000 and took four months to complete. It was a team effort by Dr. Dre, James Cameron's Digital Domain, and two imaging companies. But how did the digital Tupac work? Although it is being called a hologram, it was actually a 2-D projection. Just before Tupac's appearance, a 30-foot-by-13-foot transparent screen descended across the stage. The images of Tupac were projected from above onto a reflective surface, which then reflected them onto the giant screen. The screen was angled in such a way that the audience could watch Tupac performing but could not see the screen itself. Dr. Dre has yet to say how he got Tupac's voice to sing the songs and say the word "Coachella."
1. Tupac at Coachella: WIN

Tupac's Coachella appearance, which some have described as "genius" and others have called "creepy," is a definite win. A virtual version of the rapper appeared onstage and interacted with Snoop Dogg and the audience before performing two songs and disappearing in an explosion of light. Though holograms have been used before to bring dead singers back to life, Coachella marked the first time a hologram has given a performance that was not delivered during the singer's lifetime. And since the hologram's creators described the Tupac performance as "affordable," Tupac may be touring again very soon.
2. Celine Dion Duet With Elvis: WIN

It was a pairing that few probably ever expected to see, but a virtual Elvis was projected on stage to sing "If I Can Dream" with Celine Dion on American Idol in 2007. It was billed as a performance by "two of the biggest stars in musical history," and fans were not disappointed. Elvis's part was added by rotoscoping, which allows an existing piece of video to be added to a new video—a similar technique was used in Forrest Gump—so it was not exactly original. But the end result was a classic performance by two huge stars.
3. 'Star Wars IV' Hologram: WIN

"Help me, Obi-Wan Kenobi, you're my only hope." With those words, Princess Leia sent her droids on a mission to save the galaxy and launched a massive franchise. It's the hologram that launched a movie series. It's old Star Wars. Of course it's a win.
4. Anderson Cooper Interviews Will.I.Am: FAIL

CNN projected a live hologram of singer Will.I.Am into its studio for an interview with Anderson Cooper on election night in 2008. Cooper explained that the hologram allowed the interview to be "quieter," as he was interviewing the rapper from the victory celebrations in Chicago, but it really just wasted time. They seem to spend half the interview comparing with Star Trek. To be fair, the virtual Will.I.Am did look like something out of a bad '80s movie, but the stunt just seemed like a pointless gimmick. In the end the interview left us with more questions than it answered: Why a hologram? Why not by video or telephone? Why interview Will.I.Am at all?
5. Mariah Carey Holographic Concert: WIN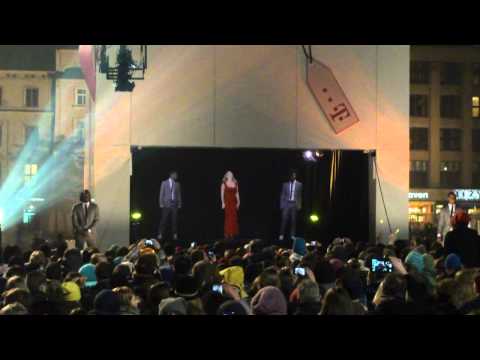 Leave it to Mariah Carey to figure out how to perform five concerts across Europe at once. Just use holograms. They may not have been the most realistic-looking holograms, but the audiences in November 2011 didn't seem to mind—they still got to see Mariah sing all her Christmas classics "live."
6. Al Gore at Live Earth: FAIL

Al Gore's virtual appearance at Live Earth in Tokyo was just awkward and unnecessary. The hologram delivered a nice speech, but it's not as if he were dancing. It was nothing a video could not have effectively gotten across.
7. Beyoncé at the Billboard Music Awards: WIN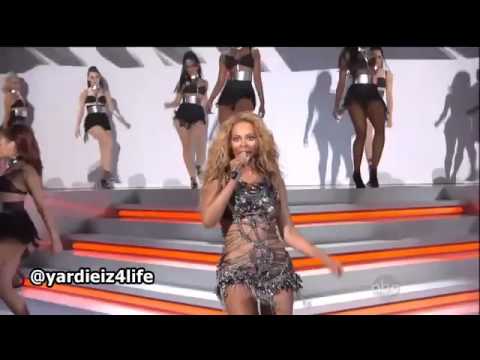 What's better than Beyoncé singing and dancing at the Billboard Music Awards? Dozens of Beyoncés singing and dancing at the Billboard Music Awards. When the real-life backup dancers come onstage halfway through the performance, you find yourself missing the Beyoncé holograms—they are more talented.
8. Hatsune Miku: FAIL

OK, the song may be catchy, but in case you didn't notice, Hatsune Miku is entirely animated, not based on any real singer, and her tour nearly sold out! People actually bought tickets to this, so some music producers somewhere just made a ton of money. Singers everywhere should be running scared; if the Tupac hologram doesn't come back and steal their jobs, this girl might.